An outfit is never complete without accessories, no matter how bold or minimal they may be. We feel naked leaving home without them, especially our jewelry. Here are some of our fave must-have faux pieces for summer to update your look now!
Karen London Alexandria Ring, $50
This cool ring comes in four different metals and is the perfect everyday go-to ring. We love the matte finish and simple details…a great ring to wear on your pointer because it mixes well with other rings on the same hand. Celebs like Miley Cryus and Demi Lovato have been seen sporting it all over town.
Melanie Auld Holly Studs, $98
A great pair of studs is always a must-have and these will go with everything in your summer wardrobe. While the mother of pearl shell is a classic, the gold spikes make these look edgy. So challenge your good-girl vibe and try pairing them with a feminine floral top.
Mindy Gold Druzy on Brown Sienna Bracelet, $120
Get boho chic this summer by wearing this fab statement bracelet with a cute maxi dress. We love the jasper and quartz stone and how it is beautifully set within a chic wrapped leather cuff. It also has a two snap closure for an adjustable fit.
BIKO Sekani Necklace, $198
The tribal trend is very hot this summer but if an all over print is too daring for you, try this statement necklace. The polished rocks come in several colors and the intertwined basket weave texture is earthy with an industrial touch. Pair this one with your favorite LWD.

Sheila Fajl Beaded Thread Knot Bracelet, $28
We love how this bracelet mixes in funky-colored glass beads with a touch of sparkle. They look great layered together or you can mix and match with your own to create a stack of bangles. Added bonus: the price is right!
Chibi Jewels Vermeil Arrow Necklace, $100
Wear this stylish necklace by itself or layer with other necklaces. Its sleek design is perfect for everyday and it looks great with jeans and a t-shirt. We love that it's handmade in NYC…it also comes in gold and silver, and in two different lengths!
Sure, dressing in red, white and blue to celebrate the birth of America is patriotic, but can it be stylish, too?  Skip the stars and stripes ensemble and accessorize with a few key pieces for a look that's sophisticated and all-American.  These red, white and blue picks are sure to make fashion fireworks.
Toms' Navy Nautical Women's Biminis, $69
Boat shoes are a classic American summer staple and we love Toms' take on them.  They're so comfortable and great for sailors and land-lovers alike.
Gucci Aviator Sunglasses, $265
A classic aviator gets a sexy update in white.  This pair looks fab with a tan!
Bauble Bar Blue Chain Wrap, $32
This lovely denim blue cuff is a great statement piece. The gold chains add a bit of glam!
Urban Expressions Kennedy Clutch, $40
A day clutch is super on-trend right now.  Rock it in red for Independence Day and any day you're looking to spice up your outfit.
Sheila Fajil Druzy Chandelier Earrings, $44
These boho-esque chandelier earrings in white dress up a ponytail or beach waves — perfect for a holiday in the sun!
Essie Forever Young Polish, $8
It's so hard to find a true red polish but this glossy cherry shade is the real deal.  Try it on your nails and toes or rock the nail art trend by highlighting just one finger.
Hermès Printed Scarf, $752
Hermes is, of course, the scarf authority and this graphic, multicolor scarf doesn't disappoint.  It's featherweight for summer so you'll want to wear it this July 4th and every day after.
CHANEL J12 Watch, $5,250-$6,000
A white watch is always in style.  Chanel's sleek J12 can be dressed up or dressed down.
Hollywood's "Night of Nights" is right around the corner, and while we don't know who will take home the oh-so-coveted Oscar Awards, we do know that all you beauty junkies out there will be mentally casting your vote for Oscar superlatives – who has the best dress, the best accessories and of course… who has the best hair?
We spoke with the pros at Wella Professionals, the hair brand who has a very impressive roster of red carpet hair under their belt already from this season, including Madonna, Michelle Williams, Claire Danes, Emma Stone, Zoe Saldana, Emily Blunt and Shailene Woodley, to get the inside scoop on what hair looks will heat up the red carpet this Sunday.
Graceful Sheen
"We will see a peak in fluid textures and warm tones that suggest effortless elegance and healthy, shiny hair that shows a lot of movement and bounce," states Wella Professionals Color Ambassador Aura Friedman. "Expensive and Luxurious are words you could use to explain this look – maximize this effect by asking your colorist to use Wella Professionals Haircolor to give you a soft shade with warm undertones that will best complement your skin tone."
Aura recommends her A-list clientele use Wella Professionals Brilliance Shampoo and Conditioner, which is designed to seal in color while leaving locks irresistibly smooth to the touch.
"Wella Professionals Velvet Amplifier is a red-carpet favorite," adds Celebrity Stylist Andy LeCompte, "that smoothes the hair surface so it can better prepare the hair for styling." Andy also uses Wella Professionals Shimmer Delight Shine Spray on his clientele to create the most sheen and expensive looking finish to any end look.
Angelic Side-Chignons
LeCompte predicts that celebs will lean toward classic styles with a play on texture and symmetry. "There will be a lot of deep side parts and loose ponys, bobs and chignons tied to the side." This style can be customized to accentuate any gown, face shape or hair accessory. "It also lessens the stuffiness of that prom feeling and adds a more up-to-date, laissez-faire feeling.
The options here are endless, but no matter the look, you can use Wella Professionals products to perfect the end look. Apply 3-5 pumps of Wella Professionals Velvet Amplifier hair primer to create an even surface on each and every hair follicle before drying the hair, creating a foundation for the most luxurious looking end-look. To keep a style looking fresh yet modernly undone, use a light-hold hairspray such as Wella Professionals Stay Essential Finishing Spray to hold the hair while keeping an overall sense of liquid movement.
The red carpet arrivals of the 84th Annual Academy Awards®, will be airing February 26th on NBC. Be sure to join Wella Professionals on Twitter and Facebook LIVE during the red carpet arrivals (between 4pm and 7pm EST), along with their special guest panel of hair pros Aura Friedman, Rick Wellman and Mark Garrison to get tips, tricks and commentary on the hair looks of the evening.
Can't wait till then? Visit the red carpet tab on Wella's Facebook page for tips and leave questions for their experts to answer.
| | |
| --- | --- |
| | DailyMakeover.com from Makeover Solutions, Inc., is the web's leading beauty information site, providing virtual makeover technology and content for women to create personalized makeovers. DailyMakeover.com's virtual Makeover Studio enables users to see themselves wearing numerous hairstyles, makeup shades and fashion accessories to create their best makeovers, which can be saved, printed, or emailed. DailyMakeover.com is headquartered in New York City. |
Annie Ladino is one busy woman. The stylist (her personal celebrity clients include: Julia Roberts, Brooklyn Decker, Becki Newton and Erin Andrews), editor, and Chief Stylist for Shop It To Me, shares her tips for re-inventing your wardrobe in 2012. Think classic, clean , and minimalist.
PD: What are some classic staple pieces that every closet needs?
AL: A great tailored pantsuit.  You can wear it together or break it up for more use. Also, a crisp white button up and a Little Black Dress. Every closet needs a great comfortable pump to take you from day to night.
PD: What trends/looks can be tossed?
AL: Grunge -Out with sloppy looks and in with classic, clean and minimalist looks.
PD: How important are accessories when it comes to building personal style?
AL: Accessories are the finishing touch to a look.  They are an essential part in defining your style.
PD: What types of shoes does every closet need?
AL: A sexy black pump, a nude evening shoe (it goes with everything).
PD: What are some ways to organize your closet?
AL: It's as simple as having a place for everything.  Once you establish an organized system it will make it easier and cut time in keeping it neat.
PD: What's a great jean that works well on various body types?
AL: Bootcut jeans are slimming on curvy figures and accentuate curves on slender figures.
PD: What are some of your must-have accessories?
AL: A silk printed scarf, a gold men's style watch, a cross body bag and always a sexy stiletto pump!
PD: How do you define your personal style?
AL: I'd like to think of it as French Bohemian.  I like flow, comfort yet beautifully tailored clothing.
PD:  What are some of your favorite brands?
AL: Azzedine Alaïa, Stella McCartney, Céline, The Row.
Lindsay Brooke Weiss (Cohen) is a fashion and accessories editor and on-air style expert. She was previously Haute Living's editorial director, Niche Media's fashion and accessories editor and fashion editor for L-Atitude.com. Lindsay has been a frequent contributor at styledon.com and is a regular guest stylist on NBC's "Gossip Gram."
I LOVE jewelry and am always looking for a great new find.  This summer, I'm lusting after pieces that aren't fussy or overly fancy, and with many options under $75, it's easy to accessorize.  Summer is the time to be carefree, so simple summer style is about wearing fabulous pieces that you can pair with everything in your wardrobe.

Lulu Frost Navette Tassel Necklace
, $325
I'm a big fan of long necklaces.  This antique brass one is easy to wear for summer. I love that the oversized swarovski crystal flower pendant has a glass pearl center. It looks great with a solid maxi dress and sandals.
Citrine by the Stones Provocateur Earrings, $160
This brand has a ton of fun jewelery and these earrings are total outfit makers.  Wear them during the day with jean shorts and a white tank and your hair pulled up in a messy ponytail or at night with a dress and sleek pulled back hair.


Alexis Bittar Crystal Encrusted Gold Pool Ring
, $255
Alexis Bitar's baubles are true works of art and this ring is no exception.  An oversized cocktail ring is the perfect conversation starter at a chic summer nighttime event.

Sadee Says 3-finger Serpent Ring, $104
Snake jewelry is a favorite of mine and very vintage-inspired.  Wear this multi-finger ring and be ahead of the fashion curve this summer.

Kelly Gerber Grey Croco Leather Cuff, $375
Chunky bracelets are on trend this season.  This one is casual enough for everyday wear.  Crocodile adds a cool nod to safari style which is always hot for summer.
Under $75: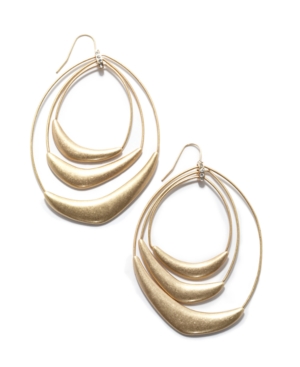 Rachel Rachel Roy Earrings, Three Tier Drop Hoop
, $46
Hoop earrings are every girl's summer staple.  This is an interesting take on the basic hoop earring.  I would keep them on all summer!
Calypso for Target Necklace with Rosary Beads, $39.99
Calypso is known for summery fashion, and their new line for Target does not disappoint.  This necklace looks great with everything.  It's an accessory you'll wear all summer long.
Urban Metal Feather Cuff Bracelet, $20
Nothing says summer like nature-inspired jewelry.  Urban Outfitters has lots of boho chic accessories like this leaf bracelet which comes in both silver and gold.  I always stack my bracelets so this would make a great addition for a layered look.

Vanessa Mooney Wrap Bracelet, $64
Vanessa Mooney is a fave of celebrities like Katie Holmes and Vanessa Hudgens.  All summer jewelry should be as easy to wear with a tank and jeans as this wrap bracelet.  It comes in tons of great colors, too!
Skinny by Jessica Elliot Ring, $45
Skinny by Jessica Elliot is another celeb favorite worn by Rihanna, Pink and many others.  I'm obsessed with these two finger rings that come in lots of fantastic summer brights.  They look great with a tan and a manicure!
Spring is just around the corner, and what could be better than entering the season with a statement . . . a statement necklace, that is! Jennifer Niles's new accessories line, Madame Mathilde is fashionable, fun, and flirty. Just tell us what you can't wait to wear this spring and why, and you could win this Crystal Drop Deco Clip Necklace. 
To Enter:
• Subscribe to PageDaily.com.
• In the comments section below, tell us what you can't wait to wear this spring and why.
Contest Details:
• Madame Mathilde Crystal Drop Deco Clip Necklace
• Sterling silver chain with deco rhinestone clip
• Only one winner will be chosen
• Fan Madame Mathilde on Facebook, and get 20% off at madamemathilde.com
• Value: $225
• Contest ends March 1, 2011
Growing up, I always loved friendship bracelets. But as I got older, I stopped wearing them. I didn't feel that they worked with my new taste in fashion. Once I stumbled on these Freida & Nellie bracelets at a recent event, however, I was reunited with one of my favorite childhood accessories.  The colorful, intricate designs of the traditional friendship bracelet combined with the reworked vintage jewelry pieces make these perfect one-of-a-kind conversation starters. – Katrina Caspelich
Buy Assorted Freida Bracelets, $195, at charmandchain.com
I am a sucker for all things shiny and bedazzled (hence being deemed part of the Sparkle Twins by Nancy). During my last visit to Urban Outfitters, I told myself I was only allowed to buy ONE thing. But the second I spotted this Armor Plate Knuckle Ring, complete with rhinestones and gold hinges, I quickly grabbed it, put it on my finger and made it mine. It adds the perfect amount of "bad" to my girly accessories. –Lindsay Leff
Buy Urban Outfitters Armor Plate Knuckle Ring (in gold), $24, at urbanoutfitters.com
I love the leopard trend this fall. The latest collection of Lanvin bags–Devine! I recommend their Leopard-Print Happy Shoulder Bag for that 50s-inspired ladylike look. And while leopard print is hot this season, a leopard accessory is always chic. This Lanvin bag is truly a timeless investment piece. For a less expensive option (read: totally affordable), Target carries the Melie Bianco Leopard Clutch for $27.98.—Melissa Meyers, Founding Editor & CEO
Buy Lanvin Leopard-Print Happy Shoulder Bag, $1,780, at bergdorfgoodman.com
Buy Melie Bianco Leopard Clutch, $27.98, at target.com