Uber stylist and designer Rachel Zoe recently released her first jewelry collection! It's everything you would expect from the style maven and self-professed jewelry junky. The collection exudes Hollywood glamour and we are so excited to share some of our fave pieces with you!
Jewelry seemed to be a natural transition for the designer whose love of baubles has inspired her entire career. She adorns herself and her clients in vintage pieces that make a bold statement. The four lines in her collection titled Art Deco, Tassel, Sixties Glam and The Knot are filled with 14 karat plated necklaces, cuffs and earrings with Swarovski crystal accents. All are inspired by the '20s art deco movement with a '60s and '70s vintage flare.  Bananas!
Rhinestone Tassel Earrings, $250
We are obsessed with tassels and LOVE LOVE LOVE these vintage chic earrings. We would pair them with dark-wash jeans and t-shirt or a fab simple shift dress to wear out at night.
Single Chain Bracelet, $140
This bracelet is the perfect mix and match piece from the collection. Layer it with your other favorite gold bracelets or even a watch. The vintage-inspired glam bauble will work with many pieces in your wardrobe.
Rectangular Ring, $195
We are swooning over this "ah-mazing" cocktail ring. The shape, size and design make it the perfect statement piece to add to your wardrobe this Fall!
Modern, sexy and wearable, Rachel Zoe's debut jewelry collection is available exclusively at Neiman Marcus.
I love to accessorize my outfits with cuffs, bangles and rings. Here are my favorite picks that will surely add some serious style and edge to your look:
Eddie Borgo Bear Trap Bangles, BUY NOW, $490
The set of three silver-plated brass bracelets are a perfect balance of rebellion and luxury. I love their versatility and they can be worn interlocked as one piece or reversed for added edge. The Eddie Borgo collection began with a request from designer Phillip Lim to create jewelry for his runway show and has since boomed. The collection retails in over 90 stores worldwide and has a huge cult following including celebs such as Blake Lively and Katy Perry.
Alexander McQueen Snakeskin and Brass Wrap Bracelet, BUY NOW, $315
I am a fan all things McQueen including the fab jewelry line with his signature skull detail. This midnight blue and black snakeskin wrap bracelet make it perfect for pairing with other gold accessories and really stands out against neutral palettes. The Swarovski crystal skull charm adds a pop of rock and roll.
Alexis Bittar Sugar Dust Bangle, BUY NOW, $295
These hand sculpted and hand painted Sugar Dust Bangles are gorgeous and have just the right amount of sparkle to dress up any look, day or night. Bittar got his start by selling antique jewelry and vintage clothing on the streets of lower Manhattan and is now collaborating with Burberry, Michael Kors and stylist Patricia Field. He also recently custom designed a lucite mask for Lady Gaga. No wonder he won the prestigious CFDA's Accessory Designer of the Year award in 2010!
Kara Ross Pyramid Ring, BUY NOW, $290
From the Pyramid collection, this Sterling Silver ring boasts a geometric style with sleek lines and smooth detail that reflects light with every move. They are also made with a variety of gemstones (I personally love the Mother of Pearl version). Kara Ross is an expert jewelry designer, certified gemologist and has recently added wood crafter to her impressive resume; having been asked to create exclusive gifts for President Obama and First Lady made out of Magnolia wood that originated from the White House lawn! A pyramid ring by Kara Ross was recently worn by Golden Globe winner Jessica Lange, and other celeb fans include Hilary Swank, Anne Hathaway and Oprah.
From Harry Winston to HSN, Carol Brodie has accumulated a vast knowledge of information and celebrity style tips. Her virtual jewelry boutique, Rarities Fine Jewelry with Carol Brodie, can be found on HSN as can her monthly visits which feature roughly 35 to-die-for new styles at affordably fabulous price points. If you are dreaming about wearing everything on Barney's first floor… dream no more. Carol's collection is chock full of her favorites… which are bound to become yours. Here are her tips for summer-fabulous sparkle:
What are the best investment pieces for this summer?
Blackened jewelry will be all the rage this fall, so how about starting now by buying pieces that pair gold and silver such as the Champagne Diamond Vermeil Disc-Shaped Earrings. The Indian Mughal Dyansty was the inspiration for these earrings which celebrate the sun and the treasures of the earth. A long layering necklace is so important all year long… try this one to update every summer mini and maxi. And don't forget the cuffs… worn single or by the pair, cuffs always provide the necessary extreme makeover!
Buy Now, Champagne Diamond Vermeil Disc-Shaped Earrings, $3169.90
Buy Now, Smoky Quartz "Circles" Necklace, $849.90
Buy Now, Gemstone and Enamel "Dragonfly" Cuff Bracelet, $519.90
What is the one piece of jewelry that you never take off?
My obsession with the evil eye and hamsa hand go way back to summer holidays in Israel and Greece. My diamond evil eyes have so much become my signature that I am just launching my first ever Swiss-Made timepiece with the iconic design brilliantly sparkling on the dial. You can never wear too many talismans and I always suggest that the hamsa and evil eye should be worn together for maximum style and protection.
Buy Now, Champagne Diamond "Hamsa" Bangle Bracelet, $129.90
Buy Now, Blue Lapis and Sapphire "Evil Eye" Charm Bracelet, $224.90
What do you suggest we do to clean our jewelry in the summer?
My favorite summer secret is the jewelry bath. Gemstone and diamond jewelry gets dirty very quickly with sunscreens, soap and moisturizers. Mix the solution: 1 part ammonia, 1 part dishwashing liquid and 2 parts warm water. Bathe your jewelry (except woods, opaque gems and pearls) 10-15 minutes and use a soft tooth brush to gently wipe away the dirt. Rinse with cool water and pat dry with a soft cloth. Your jewelry will sparkle like new. For all other jewelry like coral, turquoise, wood and pearls, use a soft damn cloth to clean away the residues that are dulling the pieces.
Can we wear gold and silver together?
One of my favorite things to do is to mix and match my jewelry – old and new alike. I love to layer. I start with an antique piece or one that is black rhodium accented. I layer in yellow gold, rose gold and silver pieces to create a thoroughly modern look. Don't be scared to experiment… I wear every color and texture of gold and silver as long as I have one estate or oxidized piece to pull it all together like this Diamond Rose Vermeil "Fleur De Lis" Ring.
Buy Now, Diamond Rose Vermeil "Fleur De Lis" Ring, $359.90
I know you love to layer, any tips?
One of the things I've learned is to keep jewelry in PROPORTION. Choose one big piece and build from there. If you are wearing a chandelier or a long earring, choose a long necklace – 30 inches or more – to compliment the look and keep everything in proportion. Long and layered is a great way to get a big look while still wearing fine jewelry. Cuffs are my personal obsession, but when you wear them I would skip the rings and keep the focus on an important earring. With bead bracelets or bangles, the more the merrier. Stack them up half way to your elbow for drama and impact!
Buy Now, Cultured Freshwater Pearl 37″ Necklace, $589.90
I lost my favorite earring at the beach, any suggestions?
Repurpose your jewelry — there is nothing worse than the single or ORPHAN EARRING lying at the bottom of your jewelry box. If you have lost an earring with sentimental or monetary value, take the other to your local, jewelry repair shop and have them turn your orphan earring into a pendant, charm or ring.
Buy Now, Diamond Vermeil "Peace/Snake" Pendant, $279.90
To see everything presented on air you can tune in to watch Carol Brodie on HSN on Sunday, June 19th from 11am – 2pm and again at 9pm on Sunday night. Be sure to check out HSN.com and order your favorite pieces on line. Styles sell out very quickly and she does not bring them back as they are true Rarities!
 
 

The road from Harry Winston to HSN was pavéd in diamonds… Carol Brodie, International Jewelry Expert and host of Rarities: Fine Jewelry with Carol Brodie on HSN, has transformed her career from luxury to HSN working with some of the world's most exclusive brands along the way.Under the leadership of CEO Mindy Grossman, Brodie joined HSN in 2009 where she delivers a message of empowerment combined with a profound knowledge and expertise of jewelry to women of all ages. Leveraging the power of social media and her on-air success, Brodie has been able to reinvent herself from a luxury branding expert and advisor into an electronic superstar becoming one of the top-sellers in the fine jewelry category and gaining a loyal and devoted following of fans and consumers.

Prior to joining HSN, Carol was Chief Luxury Officer of CurtCo Media, publisher to a family of titles targeted to the world's most affluent readers including Robb Report, Worth, Showboats International and Art & Antiques. In this exclusive position, Brodie lead strategic partnerships, special events, promotions and targeted marketing and public relations initiatives to position CurtCo's most influential magazines as the voice of the international luxury marketplace.

Prior to joining CurtCo, Brodie was Global Director of Communications for world-renowned jeweler Harry Winston. During her eight years there, Brodie was credited with expanding the reach and image of the old-world brand to appeal to a younger clientele and introducing the concept of red-carpet dressing.

In addition to her work with some of the world's most prominent brands, Carol Brodie is a sought-after speaker at conferences worldwide on subjects ranging from luxury marketing to international branding. She is also a recognized media personality appearing as a correspondent on Extra, as a style expert on E! Style Court and ABC's Extreme Makeover as well as frequent appearances on The Bachelor, The Today Show, Good Morning America, CBS This Morning, Entertainment Tonight, Access Hollywood, Inside Edition, Today in New York, CNBC, CNN and Martha Stewart Weddings earning her the moniker: 'The Queen of Luxury'. In 2004, Kiplinger's named Brodie The Queen of Diamonds a name that has defined her expertise in the fine jewelry industry.

Previous to joining Harry Winston in 1997, Brodie spent four years as a partner at award-winning advertising agency J. Walter Thompson, where she managed the Diamond Information Center on behalf of De Beers Consolidated Mines. Not just limited to diamonds, Ms. Brodie has helped build luxury and beauty brands such as Barnes and Noble, Faberge, Ivanka Trump, Clairol, Revlon Professional Products, Maybelline, Matrix and Gucci Timepieces.

Ms. Brodie's personal interests involve philanthropy, gemology and international travel. She maintains positions on the committees of several prominent charities including The Boy's and Girl's Club, The Chron's & Colitis Foundation of America and the Food Allergy Initiative. She resides in Fairfield, Connecticut, Palm Beach, Florida and Manhattan, New York with her two children, Noah and Grant.

 
I LOVE jewelry and am always looking for a great new find.  This summer, I'm lusting after pieces that aren't fussy or overly fancy, and with many options under $75, it's easy to accessorize.  Summer is the time to be carefree, so simple summer style is about wearing fabulous pieces that you can pair with everything in your wardrobe.

Lulu Frost Navette Tassel Necklace
, $325
I'm a big fan of long necklaces.  This antique brass one is easy to wear for summer. I love that the oversized swarovski crystal flower pendant has a glass pearl center. It looks great with a solid maxi dress and sandals.
Citrine by the Stones Provocateur Earrings, $160
This brand has a ton of fun jewelery and these earrings are total outfit makers.  Wear them during the day with jean shorts and a white tank and your hair pulled up in a messy ponytail or at night with a dress and sleek pulled back hair.


Alexis Bittar Crystal Encrusted Gold Pool Ring
, $255
Alexis Bitar's baubles are true works of art and this ring is no exception.  An oversized cocktail ring is the perfect conversation starter at a chic summer nighttime event.

Sadee Says 3-finger Serpent Ring, $104
Snake jewelry is a favorite of mine and very vintage-inspired.  Wear this multi-finger ring and be ahead of the fashion curve this summer.

Kelly Gerber Grey Croco Leather Cuff, $375
Chunky bracelets are on trend this season.  This one is casual enough for everyday wear.  Crocodile adds a cool nod to safari style which is always hot for summer.
Under $75: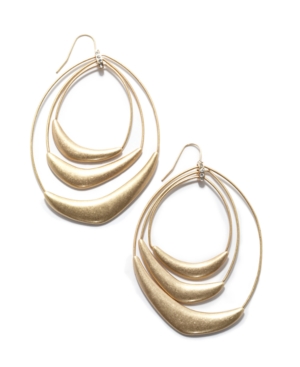 Rachel Rachel Roy Earrings, Three Tier Drop Hoop
, $46
Hoop earrings are every girl's summer staple.  This is an interesting take on the basic hoop earring.  I would keep them on all summer!
Calypso for Target Necklace with Rosary Beads, $39.99
Calypso is known for summery fashion, and their new line for Target does not disappoint.  This necklace looks great with everything.  It's an accessory you'll wear all summer long.
Urban Metal Feather Cuff Bracelet, $20
Nothing says summer like nature-inspired jewelry.  Urban Outfitters has lots of boho chic accessories like this leaf bracelet which comes in both silver and gold.  I always stack my bracelets so this would make a great addition for a layered look.

Vanessa Mooney Wrap Bracelet, $64
Vanessa Mooney is a fave of celebrities like Katie Holmes and Vanessa Hudgens.  All summer jewelry should be as easy to wear with a tank and jeans as this wrap bracelet.  It comes in tons of great colors, too!
Skinny by Jessica Elliot Ring, $45
Skinny by Jessica Elliot is another celeb favorite worn by Rihanna, Pink and many others.  I'm obsessed with these two finger rings that come in lots of fantastic summer brights.  They look great with a tan and a manicure!
As we head toward fall fashion season and those exciting new purchases, why not look good while doing good? I was thrilled when I received this Same Sky Twilight bracelet as a gift. Same Sky is a trade-not-aid initiative providing employment opportunities to women in Rwanda who survived the genocide of 1994. Some of these women are artisans who crochet hand-blown glass beads into bracelets, the sale of which goes to support them and their families. Packaged in a small canvas bag, each bracelet comes with a paper signed by the woman who crafted it. The dark gray beads with hints of silver are perfect for fall's color palate. Not only do I love this stylish accessory, but I love the feeling of being a part of a cultural movement! —Lindsay Hahn
Buy a Same Sky Twilight Glass Bead Bracelet, $160, samesky.com



The zipper trend ads flair to any accessory
Adjustable cord for perfect fit
Double row of rhinestones adds sparkle to your breezy summer dresses
Moves effortlessly from day to night

Shop the Full Story:
Hot Summer Accessories—On Trend & On Budget
I have always been a fan of McQueen. His talent for flawless tailoring, his theatrical shows, he was one of a kind.  This is one of my recent purchases that I will treasure.

Purchase Alexander McQueen Skull Bracelet
Jill Heller Fine Jewelry

The Abundance Bracelet is a great gift for spiritual and hip Moms. Each bracelet promises positive energy and contains a prosperity mantra found on a white paper scroll located inside the link. The bracelet is super chic and available in two sizes. Large Abundance Bracelet for $500. Small Abundance Bracelet for $400.

First time customers receive a 10% discount when they mention Ask Melissa

*The Abundance bracelets are custom orders and non-returnable/non-refundable

Order Abundance Bracelets at: