Finding the right pieces for your best gorgeous + glam look is easy, but who says elegance is an evening-only affair? Equal parts comfy and chic, we've compiled a list of on-trend casual clothes for summer – mix and match for a variety of looks guaranteed to keep you looking cute long before cocktail hour.
Tops
It's all about fit this summer… less of it! Stay lovely in tanks that are loose and frame-flattering, such as this nautical-striped silk top from Joie or SPLENDID's Cotton Mesh & Chambray Stripe Tank. Like any designer piece worth its price tag, beauty is in the details: Accenting the finer, delicate features of your body is both sexy and feminine. We're loving scoopnecks, the perfect style for highlighting your collarbone and elongating your neck. Try ecoSkin's Hydra Top, Two Color Rugby Stripe Scoopneck Top from SPLENDID, or Ralph Lauren's Modal-Cashmere Scoopneck Tee for a look that shows you off without showing too much. If your taste is more dramatic than demure, we recommend Rammy Brook's DEBBY top. The charmeuse staple combines the airy flow of a summer tank with the daring plunge of a night-worthy neckline, while the high neck in back and careful front drapery keep it just right for the daylight hours.
Bottoms
Get back in touch with your inner child this summer by channeling this season's whimsical inspiration: Rainbow Bright. Summer's hottest bottoms are coming fast and fashionable in an assortment of colors, from muted rose to hot, hot pink. J Brand's Cut-off Shorts come in five eye-popping varieties, while Forever 21's short shorts have you (mostly!) covered, with faded denim cutoffs available in a trio of light, pastel shades. Skinny jeans are a great fit all year round, and the warmer months are a perfect excuse to experiment with a warmer color palette. Rag & Bone have a sweetly rose-toned skinny cigarette pant, Urban Outfitters offers a high-rise take on the look in berry, and for an even comfier fit with the skinny flair, we can't wait to kick back in American Apparel's Unisex Stretch Twill Slim Slack
, carried in both hot + cold colors. Twill is our latest material of choice, great for those lazy days that mosey rather than move too quickly, and Forever 21's Twill Joggers are right up our alley of relaxation. Ramy Brook's Silk Stretch Charmeuse pants are a higher-end take on the jogger look, offered in the more understated options of mocha and fern.
Dresses
There's lots of crossover action going on in this season's dress designs, and we want a piece of it! Both Edit and H&M are carrying dresses with the detailing of a great fitted shirt, replete with sleeveless button-up fronts and attached belts. We're reaching for Phillip Lim's Sleeveless Belted Patch Pocket Dress W/ Shirtail Hem, and H&M's spin on the style, in either white or brown. Can't decide which style suits you best? There's always James & Joy's Orange Convertible Dress, which goes both ways to equal fun and flirty effect: Pull the fitted bottom down for a sassy shift, or hike it up and pair over skinny jeans to wear as a loose, flowy top. For those whose style trends to the wild, jungle genre-bending is in: mix your maxis with fierce patterns, including Mink Pink's Tribal Dancer Dress or TIBI's Mosaic-print stretch-jersey maxi dress.
Shoes
There's only one way to move when your heels are strapped and styled in summer's must-have sandals: sashay! Gladiators are still very much on-trend, but to more understated ­– and comfortable – effect. K.Jacques Suede Knot Sandal is a simple interpretation of the distinctly summer design, with a single strap around the heel and two encircling the front of the foot. A more open shoe, Endless' Cocobelle Women's Samuna Sandal
puts a spin on traditional straps by twisting them over and around the big toe, while the crisscross design of Urban Outfitters' Ecote Toehold Simple Gladiator Sandal keeps the detailing and definition of traditional Gladiators without restricting your foot.
Bracelets
Coco Chanel always said she never left the house without taking at least one item off – but she didn't have accessories like these. We say, the more the merrier when it comes to Chan Luu: Layer the wrap bracelets for an exotic, beachy vibe, or wrap your wrists in a leather or intricately beaded cuff. Jill Heller Fine Jewelry is dedicated to bringing spiritual substance to the style of her Abundance bracelets – each sterling silver or gold-linked piece comes encased with a "scrolled mantra for abundance," including instructions on how best to use the fashionable and wise words.
Bags
Any outfit, no matter the time of day, is ever complete without the right bag to complement, highlight, and pull everything together! For a comfy look, go for bags that, like your outfit, are less structured: CALYPSO St. Barth for Target's Linen Tote is the perfect accessory for any relaxed beach-day wear, functionally sized and decorated with fun threaded detailing.  CALYPSO's Convertible Tote may be a little pricier, but it stands apart from the style pack as a study in daytime slouch chic.
I LOVE jewelry and am always looking for a great new find.  This summer, I'm lusting after pieces that aren't fussy or overly fancy, and with many options under $75, it's easy to accessorize.  Summer is the time to be carefree, so simple summer style is about wearing fabulous pieces that you can pair with everything in your wardrobe.

Lulu Frost Navette Tassel Necklace
, $325
I'm a big fan of long necklaces.  This antique brass one is easy to wear for summer. I love that the oversized swarovski crystal flower pendant has a glass pearl center. It looks great with a solid maxi dress and sandals.
Citrine by the Stones Provocateur Earrings, $160
This brand has a ton of fun jewelery and these earrings are total outfit makers.  Wear them during the day with jean shorts and a white tank and your hair pulled up in a messy ponytail or at night with a dress and sleek pulled back hair.


Alexis Bittar Crystal Encrusted Gold Pool Ring
, $255
Alexis Bitar's baubles are true works of art and this ring is no exception.  An oversized cocktail ring is the perfect conversation starter at a chic summer nighttime event.

Sadee Says 3-finger Serpent Ring, $104
Snake jewelry is a favorite of mine and very vintage-inspired.  Wear this multi-finger ring and be ahead of the fashion curve this summer.

Kelly Gerber Grey Croco Leather Cuff, $375
Chunky bracelets are on trend this season.  This one is casual enough for everyday wear.  Crocodile adds a cool nod to safari style which is always hot for summer.
Under $75: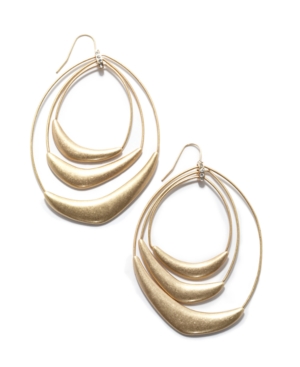 Rachel Rachel Roy Earrings, Three Tier Drop Hoop
, $46
Hoop earrings are every girl's summer staple.  This is an interesting take on the basic hoop earring.  I would keep them on all summer!
Calypso for Target Necklace with Rosary Beads, $39.99
Calypso is known for summery fashion, and their new line for Target does not disappoint.  This necklace looks great with everything.  It's an accessory you'll wear all summer long.
Urban Metal Feather Cuff Bracelet, $20
Nothing says summer like nature-inspired jewelry.  Urban Outfitters has lots of boho chic accessories like this leaf bracelet which comes in both silver and gold.  I always stack my bracelets so this would make a great addition for a layered look.

Vanessa Mooney Wrap Bracelet, $64
Vanessa Mooney is a fave of celebrities like Katie Holmes and Vanessa Hudgens.  All summer jewelry should be as easy to wear with a tank and jeans as this wrap bracelet.  It comes in tons of great colors, too!
Skinny by Jessica Elliot Ring, $45
Skinny by Jessica Elliot is another celeb favorite worn by Rihanna, Pink and many others.  I'm obsessed with these two finger rings that come in lots of fantastic summer brights.  They look great with a tan and a manicure!
Colorful designs and bohemian styles.
Perfect for beachside lunches or sunset cocktails
Corey (South Hampton store) will track down and ship to you anytime, anywhere.
Comes in four beautiful colors including navy, ecru, picnic (blue), adore (orange)
Embroidered silk chiffon
Lace details