Avis Richards' dedication to philanthropy is paramount. The Founder of Birds Nest Foundation, a non-profit organization that produces documentaries, short videos and PSA's for a multitude of well deserving and under-represented charities, Avis Richards brings passion, zeal and energy to every project she takes on–raising much needed attention to lesser known charities and promoting awareness for their meaningful causes. This New York based mother of two has teamed up with New Yorkers and A-list celebrities to produce films for the charities of Goldie Hawn, Michael Bolton, Andre Agassi, John Legend and many others. I met Avis last summer and was so impressed by all of her talents and love of giving. The award-winning producer shares some of her interesting history, opinions and lifestyle secrets.
MM: What inspired you to start the Birds Nest Foundation?
AR: Seven years ago, I noticed a lack of quality media content for non-profits. Many of these non-profits spent large sums of money on production companies to get their word out. That's money that could be going to a good cause, so I stepped in. It's really all about giving back through media and giving non-profits a voice.
MM: I love the foundation's appellation. Is there a special meaning behind it?
AR: Well, "Avis" means "bird" in Latin, so that was part of the name. But also, Birds Nest is always "hatching" new creative ideas, both beautiful and impactful once they leave the nest.
MM: As a crusader for Healthy Movement, a primary focus is improving and educating Americans about proper nutritional habits, especially for our youth; why is childhood nutrition so important to you?
AR: 12.5 million children are obese. Diabetes has increased nine-fold in the past 25 years. As a parent with two wonderful children, nutrition is especially important. I've gone to schools; I've seen what children eat. We need nutrition education for kids and adults, as this problem is a national concern.
Fashion Week is in full swing–there are so many fab events and shows to attend! One of the best so far this season was the Kohl's Rock and Republic show. I loved so many of the edgy chic styles and was able to catch up with some of the hottest celebs there (Ashlee Simpson told me that she uses
La Mer moisturizer
every day…no wonder her skin looks so luminous)! Spotted in the front row was Molly Sims sporting the cutest baby bump, hottie Chace Crawford, Ed Westwick, Penn Badgley, Ashlee Simpson, Tinsley Mortimer and Kelly Bensimon among others. My favorite looks included a perfect short and fitted LBD, an off the shoulder striped micro mini dress styled with layered necklaces and stacked bangles, the cutest denim shorts paired with wearable tees, cropped jeans in colors and denim and some great downtown looks for men. I also really loved the ruched off the shoulder dress designed in a fresh, light blueish-green color–perfect to rock at a cocktail party. I am so excited that these looks are available
right now
— no waiting until Fall necessary. What do you think of them? Let me know below!
"Kohl's provided compensation to me as an incentive to blog about the Rock & Republic launch event. The opinions expressed herein are those of this author, and they have not been reviewed or approved by Kohl's in advance."
I see so many looks I love during New York Fashion Week but it's not often that I get the chance to wear any of them right away. That's why I have to share with you some of my favorite looks from the Kohl's Rock and Republic show last week… the styles are available in stores now as of today! You can also shop for them online. From casual jeans and tees to edgy rocker chic dresses, this line really had something for everyone. Here are some of my favorite looks: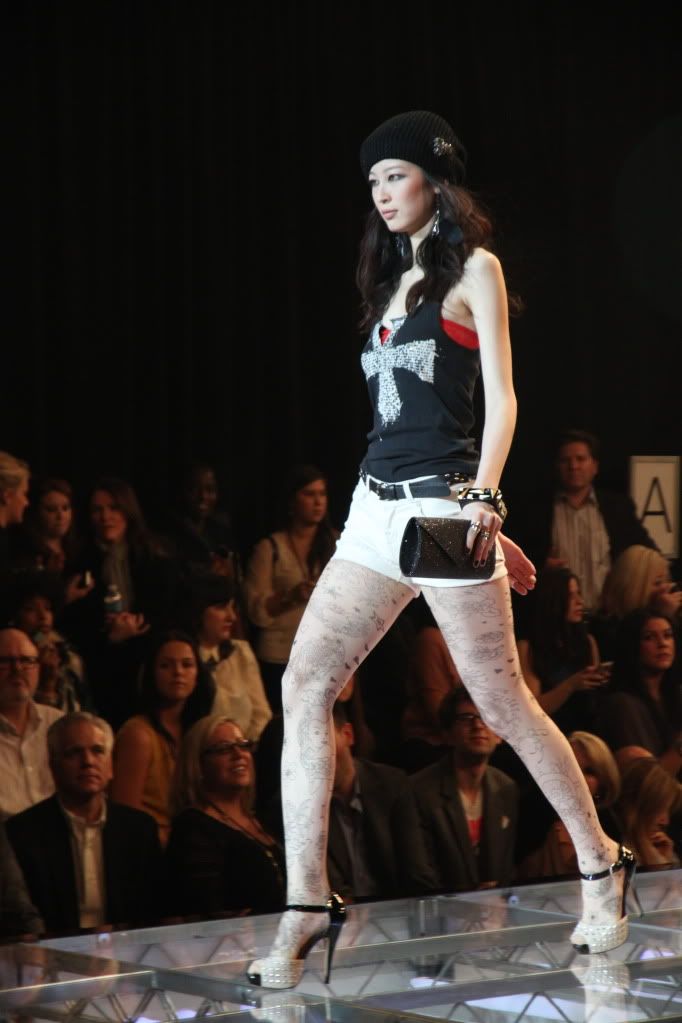 Edgy Tank I love to wear tank tops year round, especially pairing them with cool cardigan sweaters or cropped jackets. This one is a perfect addition to any rocker wardrobe…the cross and stud embellishments are super chic. It works well with all types of jeans whether colored or denim, skinny or flare!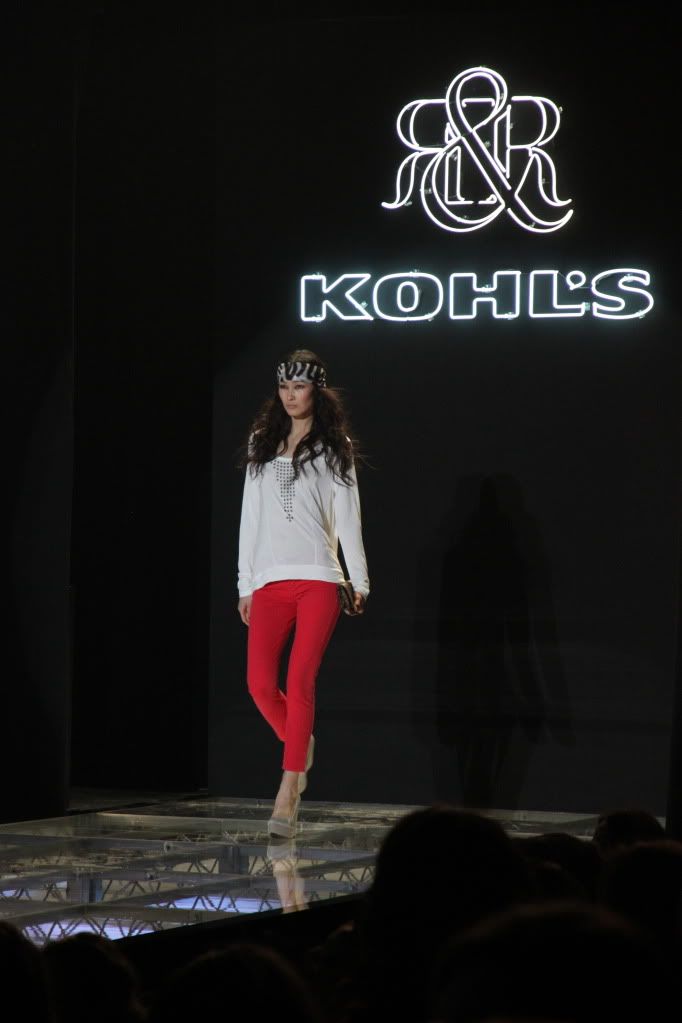 Colored Jeans Rock & Republic is of course known for a great pair of jeans, but why stick to just denim? I think this bright red is a new wardrobe staple – perfect for the girl who wants to stand out!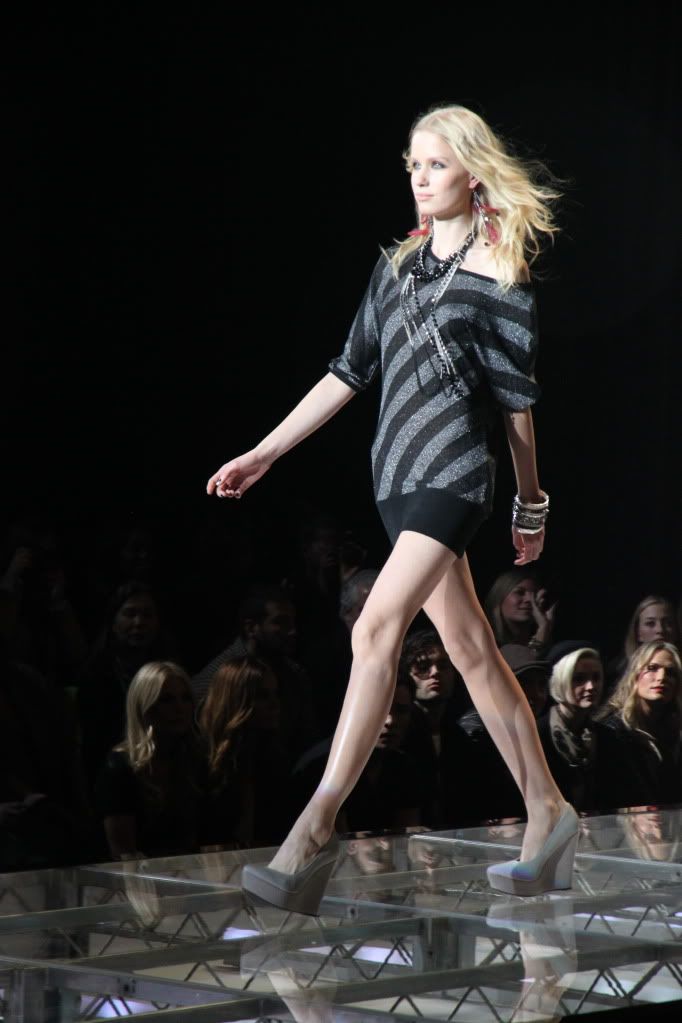 Little Striped Dress There were so many edgy and cute pieces in this collection. One of my faves is this mini striped off the shoulder dress. I love the shimmery stripes and it's a perfect day to night look. Wear with fun tights and boots with a cropped biker jacket to finish off the look.
I loved attending the fashion show and even spotted some celebs like mom-to-be Molly Sims, the very sexy Chace Crawford, Ed Westwick, Penn Badgely, Tinsley Mortimer, Ashlee Simpson and Kelly Bensimon. Check out this video featuring some of the celebs as well as looks from the runway: http://www.youtube.com/watch?v=ArurB6mmdlY&feature=relmfu
"Kohl's provided compensation to me as an incentive to blog about the Rock & Republic launch event. The opinions expressed herein are those of this author, and they have not been reviewed or approved by Kohl's in advance."