Uber stylist and designer Rachel Zoe recently released her first jewelry collection! It's everything you would expect from the style maven and self-professed jewelry junky. The collection exudes Hollywood glamour and we are so excited to share some of our fave pieces with you!
Jewelry seemed to be a natural transition for the designer whose love of baubles has inspired her entire career. She adorns herself and her clients in vintage pieces that make a bold statement. The four lines in her collection titled Art Deco, Tassel, Sixties Glam and The Knot are filled with 14 karat plated necklaces, cuffs and earrings with Swarovski crystal accents. All are inspired by the '20s art deco movement with a '60s and '70s vintage flare.  Bananas!
Rhinestone Tassel Earrings, $250
We are obsessed with tassels and LOVE LOVE LOVE these vintage chic earrings. We would pair them with dark-wash jeans and t-shirt or a fab simple shift dress to wear out at night.
Single Chain Bracelet, $140
This bracelet is the perfect mix and match piece from the collection. Layer it with your other favorite gold bracelets or even a watch. The vintage-inspired glam bauble will work with many pieces in your wardrobe.
Rectangular Ring, $195
We are swooning over this "ah-mazing" cocktail ring. The shape, size and design make it the perfect statement piece to add to your wardrobe this Fall!
Modern, sexy and wearable, Rachel Zoe's debut jewelry collection is available exclusively at Neiman Marcus.
An outfit is never complete without accessories, no matter how bold or minimal they may be. We feel naked leaving home without them, especially our jewelry. Here are some of our fave must-have faux pieces for summer to update your look now!
Karen London Alexandria Ring, $50
This cool ring comes in four different metals and is the perfect everyday go-to ring. We love the matte finish and simple details…a great ring to wear on your pointer because it mixes well with other rings on the same hand. Celebs like Miley Cryus and Demi Lovato have been seen sporting it all over town.
Melanie Auld Holly Studs, $98
A great pair of studs is always a must-have and these will go with everything in your summer wardrobe. While the mother of pearl shell is a classic, the gold spikes make these look edgy. So challenge your good-girl vibe and try pairing them with a feminine floral top.
Mindy Gold Druzy on Brown Sienna Bracelet, $120
Get boho chic this summer by wearing this fab statement bracelet with a cute maxi dress. We love the jasper and quartz stone and how it is beautifully set within a chic wrapped leather cuff. It also has a two snap closure for an adjustable fit.
BIKO Sekani Necklace, $198
The tribal trend is very hot this summer but if an all over print is too daring for you, try this statement necklace. The polished rocks come in several colors and the intertwined basket weave texture is earthy with an industrial touch. Pair this one with your favorite LWD.

Sheila Fajl Beaded Thread Knot Bracelet, $28
We love how this bracelet mixes in funky-colored glass beads with a touch of sparkle. They look great layered together or you can mix and match with your own to create a stack of bangles. Added bonus: the price is right!
Chibi Jewels Vermeil Arrow Necklace, $100
Wear this stylish necklace by itself or layer with other necklaces. Its sleek design is perfect for everyday and it looks great with jeans and a t-shirt. We love that it's handmade in NYC…it also comes in gold and silver, and in two different lengths!
Between wrapping up filming for Season Five of the Real Housewives of New York City and launching a new wine, one of our favorite housewives and my friend Ramona Singer has also added a new collection to her jewelry line for HSN.  This new collection includes some fun art deco pieces inspired by old Hollywood glamour — just like the ones you saw all over the red carpet this past awards season. If you miss seeing Ramona in action and are waiting patiently for next seasons RHONY, check out her third year anniversary show with HSN on March 14th at 5 pm.  You can also shop her collection online.  Here are some of my favorite pieces:
White Topaz & Diamond with Black Enamel Sterling Silver Earrings, $339.90
These dramatic earrings are perfect if you need a great pair of earrings to wear to a cocktail party or a black tie. I love how the black enamel makes the silver and diamonds pop.
White Topaz Sterling Silver Oval Pendant, $399.90
This statement pendant is special and looks very vintage chic. Wear it with a shift dress or even a crisp white button down and pants — a great addition to any accessories collection.
Bezel-Set Gem Station Sterling Silver Necklace, $374.90
Ramona gave me this gorgeous necklace for my birthday and it became my go-to piece during fashion week.  It's so on-trend, goes with so many outfits, and is great for layering with other jewelry.
Ramona Singer is an astute businesswoman and a true aficionado of fashion with a passion for being a wife and mother. In addition to her role on BRAVO's The Real Housewives of New York City, Ramona has taken the beauty and accessory industries by storm.
She graduated from the Fashion Institute of Technology in New York City, with a B.S. Degree in Business. Ramona started her professional career thirty years ago as a buyer for Macy's, and then created her first company RMS Fashions, Inc. Her businesses include Tru Renewal skin care, True Faith Jewelry, Ramona Singer Collections on Amazon and most notably, Ramona Singer Jewelry for HSN. Her line of pendants, bracelets, earrings and rings, priced $200 and up, was inspired by her love for estate and art deco, which she says she adores because it is timeless. Having conquered the design world, Ramona was inspired to create a skin care line, Tru Renewal, after struggling to find products she herself could use that were effective, yet free of chemicals that could potentially harm and irritate her skin. Her entrepreneurial skills have received praise from media industry giants such as Women's Wear Daily, FoxBusiness, People, and Examiner to name a few. Ramona's newest venture has her expanding to the wine world with Ramona Pinot Grigio.
This brand has a ton of fun jewelery and these earrings are total outfit makers
Wear them during the day with jean shorts and a white tank and your hair pulled up in a messy ponytail or at night with a dress and sleek pulled back hair

Shop the Full Story: Chic Jewelry for the Summer: Melissa's Favorites
I LOVE jewelry and am always looking for a great new find.  This summer, I'm lusting after pieces that aren't fussy or overly fancy, and with many options under $75, it's easy to accessorize.  Summer is the time to be carefree, so simple summer style is about wearing fabulous pieces that you can pair with everything in your wardrobe.

Lulu Frost Navette Tassel Necklace
, $325
I'm a big fan of long necklaces.  This antique brass one is easy to wear for summer. I love that the oversized swarovski crystal flower pendant has a glass pearl center. It looks great with a solid maxi dress and sandals.
Citrine by the Stones Provocateur Earrings, $160
This brand has a ton of fun jewelery and these earrings are total outfit makers.  Wear them during the day with jean shorts and a white tank and your hair pulled up in a messy ponytail or at night with a dress and sleek pulled back hair.


Alexis Bittar Crystal Encrusted Gold Pool Ring
, $255
Alexis Bitar's baubles are true works of art and this ring is no exception.  An oversized cocktail ring is the perfect conversation starter at a chic summer nighttime event.

Sadee Says 3-finger Serpent Ring, $104
Snake jewelry is a favorite of mine and very vintage-inspired.  Wear this multi-finger ring and be ahead of the fashion curve this summer.

Kelly Gerber Grey Croco Leather Cuff, $375
Chunky bracelets are on trend this season.  This one is casual enough for everyday wear.  Crocodile adds a cool nod to safari style which is always hot for summer.
Under $75: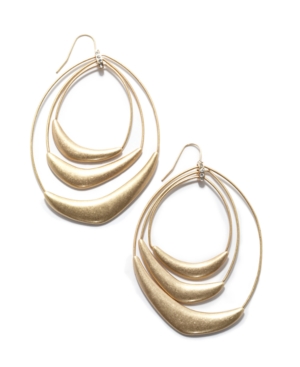 Rachel Rachel Roy Earrings, Three Tier Drop Hoop
, $46
Hoop earrings are every girl's summer staple.  This is an interesting take on the basic hoop earring.  I would keep them on all summer!
Calypso for Target Necklace with Rosary Beads, $39.99
Calypso is known for summery fashion, and their new line for Target does not disappoint.  This necklace looks great with everything.  It's an accessory you'll wear all summer long.
Urban Metal Feather Cuff Bracelet, $20
Nothing says summer like nature-inspired jewelry.  Urban Outfitters has lots of boho chic accessories like this leaf bracelet which comes in both silver and gold.  I always stack my bracelets so this would make a great addition for a layered look.

Vanessa Mooney Wrap Bracelet, $64
Vanessa Mooney is a fave of celebrities like Katie Holmes and Vanessa Hudgens.  All summer jewelry should be as easy to wear with a tank and jeans as this wrap bracelet.  It comes in tons of great colors, too!
Skinny by Jessica Elliot Ring, $45
Skinny by Jessica Elliot is another celeb favorite worn by Rihanna, Pink and many others.  I'm obsessed with these two finger rings that come in lots of fantastic summer brights.  They look great with a tan and a manicure!
Last weekend, one of my best girlfriends introduced me to the Young Designers Market in downtown NYC. The market runs every weekend from 11:00 a.m. to 7:00 p.m. and hosts up-and-coming designers who display a variety of hand-made jewelry, clothing, and accessories. Once inside, the two of us made a beeline to the jewelry section, where everything from wire-thin gold earrings to funky chunky necklaces boasting incredibly reasonable prices hung on display! For just $25, I scored two pairs of gorgeous, colorful, and not to mention expensive-looking earrings from a designer who could (and should) go big one day. For now, I'll enjoy the great steal! (Bargaining encouraged!)—Courtney Bannerot
Visit Young Designers Market
268 Mulberry Street
New York, NY, 10012
For more on up and coming designers, read about our hot new designer picks featuring Katie Gallagher and Amanda Eufer
Being green is a way of life, and Ija Designs runs its jewelry studio on 100% renewable energy and purchases and recycles all scrap metal. Bold, fresh, and super sexy, Ija jewelry will get you stopped on the street day after day. Beauty may radiate from within, but a killer pair of earrings can't hurt!

Bone Earrings: $108
Large Swallow Necklace: $164
Wave Cuff: $298
Purchase Ija Designs