Stars made their way down the red carpet for last night's Grammy Awards. See which looks rocked and which looks hit a sour note.
Photo: Jason Merritt/Getty Images
Best: Taylor Swift
Taylor donned her most mature look on the red carpet, sparkling in a silk Zuhair Murad mermaid gown. "It's one of my favorite dresses I've gotten to wear," she told Seacrest before the show. "I saw it months ago, and I said 'We've got to save this for the Grammys.'" We can see why!
Photo: Jason Merritt/Getty Images
Worst: Nikki Minaj
Nikki's goal has to be to appear on every worst dressed list! Her scarlett Versace cape with striking black beading was daring, but that's the only nicety we'll give her! With a pope look-alike on her right arm, all we can think is – How sacrilegious can you get? Oh wait, then there was her Grammy performance…
Photo: Jason Merritt/Getty Images
Best: Rihanna
Rihanna's latest tattoo and recent reports that she went back to Chris Brown had us worried she was headed for a breakdown. If she is, you would never know it by looking at her. She was an absolute knockout in a Giorgio Armani dress she helped design. If this is what going crazy looks like, sign us up!
Fashion Week is in full swing–there are so many fab events and shows to attend! One of the best so far this season was the Kohl's Rock and Republic show. I loved so many of the edgy chic styles and was able to catch up with some of the hottest celebs there (Ashlee Simpson told me that she uses
La Mer moisturizer
every day…no wonder her skin looks so luminous)! Spotted in the front row was Molly Sims sporting the cutest baby bump, hottie Chace Crawford, Ed Westwick, Penn Badgley, Ashlee Simpson, Tinsley Mortimer and Kelly Bensimon among others. My favorite looks included a perfect short and fitted LBD, an off the shoulder striped micro mini dress styled with layered necklaces and stacked bangles, the cutest denim shorts paired with wearable tees, cropped jeans in colors and denim and some great downtown looks for men. I also really loved the ruched off the shoulder dress designed in a fresh, light blueish-green color–perfect to rock at a cocktail party. I am so excited that these looks are available
right now
— no waiting until Fall necessary. What do you think of them? Let me know below!
"Kohl's provided compensation to me as an incentive to blog about the Rock & Republic launch event. The opinions expressed herein are those of this author, and they have not been reviewed or approved by Kohl's in advance."
I see so many looks I love during New York Fashion Week but it's not often that I get the chance to wear any of them right away. That's why I have to share with you some of my favorite looks from the Kohl's Rock and Republic show last week… the styles are available in stores now as of today! You can also shop for them online. From casual jeans and tees to edgy rocker chic dresses, this line really had something for everyone. Here are some of my favorite looks: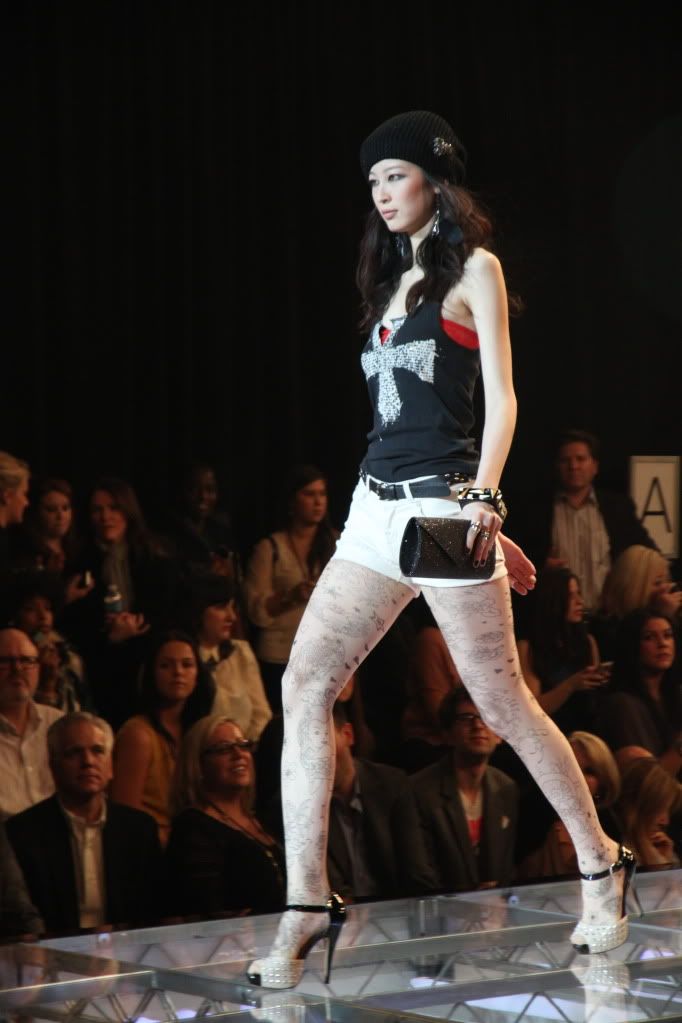 Edgy Tank I love to wear tank tops year round, especially pairing them with cool cardigan sweaters or cropped jackets. This one is a perfect addition to any rocker wardrobe…the cross and stud embellishments are super chic. It works well with all types of jeans whether colored or denim, skinny or flare!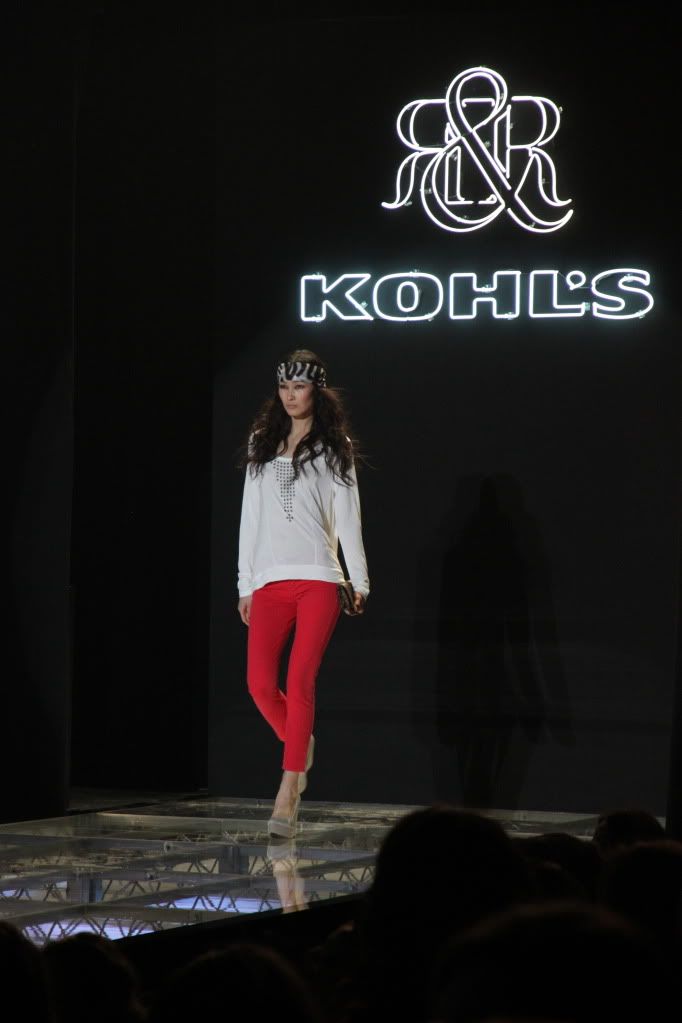 Colored Jeans Rock & Republic is of course known for a great pair of jeans, but why stick to just denim? I think this bright red is a new wardrobe staple – perfect for the girl who wants to stand out!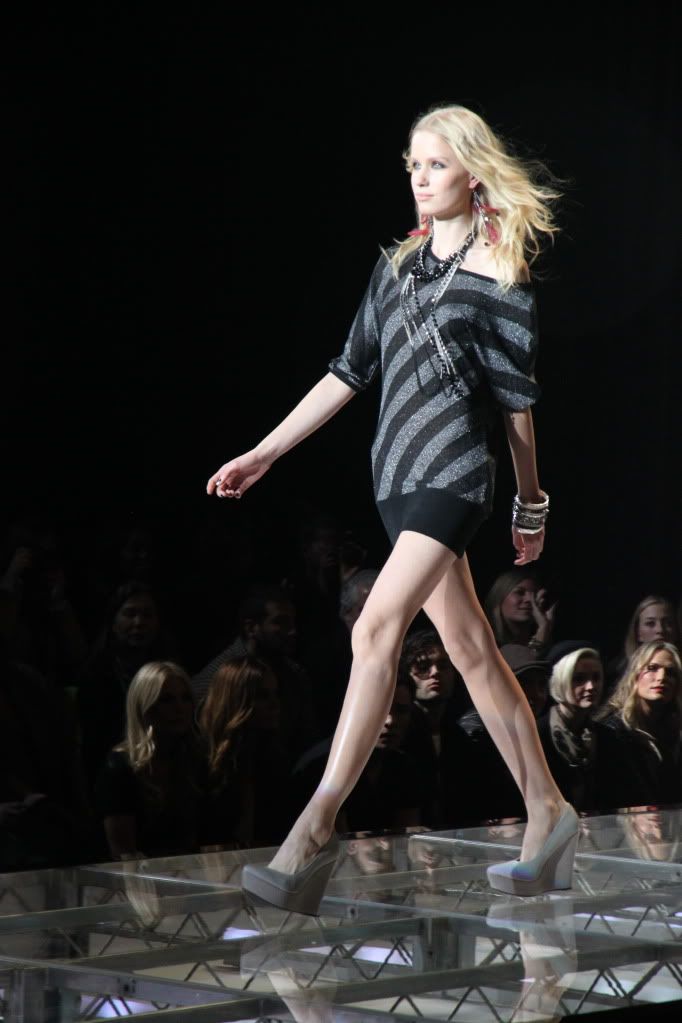 Little Striped Dress There were so many edgy and cute pieces in this collection. One of my faves is this mini striped off the shoulder dress. I love the shimmery stripes and it's a perfect day to night look. Wear with fun tights and boots with a cropped biker jacket to finish off the look.
I loved attending the fashion show and even spotted some celebs like mom-to-be Molly Sims, the very sexy Chace Crawford, Ed Westwick, Penn Badgely, Tinsley Mortimer, Ashlee Simpson and Kelly Bensimon. Check out this video featuring some of the celebs as well as looks from the runway: http://www.youtube.com/watch?v=ArurB6mmdlY&feature=relmfu
"Kohl's provided compensation to me as an incentive to blog about the Rock & Republic launch event. The opinions expressed herein are those of this author, and they have not been reviewed or approved by Kohl's in advance."

TV personality and fashion expert Jill Martin is the go-to girl for all things style. She is a regular contributor for NBC's Today Show and is known for her popular "Ambush Makeovers" and "Steals and Deals" segments, and sports interviews for the NY Knicks. She is also the NY correspondent for Access Hollywood landing all big celeb interviews. I love that Jill always shares her insights on the latest trends and how best to shop on a budget. She also offers great advice through her fashion self-help books, "Fashion for Dummies" and New York Times best seller "I Have Nothing to Wear."  I caught up with the style maven to get some fashion and beauty tips, tricks and product picks!
MM: How do you best describe your look or style?
JM: Classic. I am most comfortable in jeans, a white t-shirt and ballet flats. The second I am done covering a red carpet, the heels come off and the Uggs go on!
MM: What are some recent purchases you are loving right now?
JM: My ALC Leather Dress (from 25Park.com), Alexander Wang long sleeve white t-shirt, fab turquoise earrings from Jennifer Miller Jewelry and hot pink Jimmy Choo sandals that I got at Bergdorf's for 70% off!
MM: What is one timeless piece all women need in their wardrobe?
JM: A great pair of jeans!
MM: Who are some of your favorite designers in different price points and why?
JM: I love designers at all different price points: Dior, Michael Kors, Diane Von Furstenberg, Robert Rodriguez…and if you want a real deal, Zara has great pieces!
MM: What should every women splurge on?
JM: A great "schlep" bag!
MM: What are some things we can all do to de-clutter our closet?
JM: Go into your closet and take out your favorite things: blouse, jeans, sweater, slacks etc., and lay them on the bed. Then take out every other piece from your closet and if they don't match up to the way you feel in your favorite items, then it's time for them to go! I would rather you have 30 amazing pieces than 300 that are just "eh."
MM: What are some tips for shopping smart?
JM: One-in, One-out (or for my mother, one-in, five-out). You shop smarter when you know you have to let something go.
Celebrate Fall Fashion Week with a fabulous PageDaily giveaway! Enter here for your chance to win our chic bounty of hand picked items to get you runway ready from head to toe. Our giveaway is filled with stylish goodies from hot designer Ramy Brook, makeup by Sue Devitt, jewelry from Nicholai by Nicky Hilton, denim from James Jeans and much more!
Our Fall Fashion Week giveaway package is valued over $1000 and includes:
* Entering this contest will automatically subscribe you to 
PageDaily
 emails offering tips, tricks and product picks of celebrities and experts.
Looking for a new job in 2012? Nicole Williams, Connection Director at LinkedIn, Author of Girl On Top, Owner of Works By Nicole Williams and regular contributor for ABC's Primetime, Good Morning America, The Big Idea with Donny Deutsch, Fox News and CNN, shares her tips on looking the part and standing out (not just on paper).
Common Mistakes:
Some of the most common mistakes when it comes to interviewing is in the attire. "The biggest mistakes people make are skirts that are too short or tight, too much cleavage, scuffed shoes, excessive perfume, Lady Gaga makeup, or looking like you walked off the set of Working Girl circa 1985," Williams says. "The most important thing you bring to an interview is confidence. What you wear and how you wear it helps convey that. If you aren't comfortable in your outfit – that will come across in an interview."
Chic Attire:
If you think interview attire needs to be frumpy, think again. "You don't need to wear a two piece black suit for a job interview. You need to wear your "power outfit." Have a favorite skirt that always makes you feel great when you wear it? Why not pair that with a blazer? The days of interview uniforms are over. It's Ok to show off your personality through your clothes – as long as you aren't wearing a lime green mini skirt. Stick to business professional looks," Williams says.
Beauty:
When it comes to beauty- stick to what you know and what looks good. "The day of a job interview is not the time to start experimenting with smoky eye makeup. Keep it simple and understated. Make sure your nails are filed and your manicure doesn't have any chips," Williams says.  Try a OPI Gel Manicure; it lasts up to two weeks with no chipping, smudging or cracking. When it comes to perfume, don't over-power. "Keep your perfume to a minimum – two spritz is all you need," Williams says. Want to add a little extra drama to your look? Williams recommends the Shu Uemura Eyelash Curler $19, available at Nordstrom.
For hair, Williams recommends splurging. "Keep your hairstyle tasteful and polished. If you need extra confidence, why not spend $40 on a blowout? They are my guilty pleasure. People don't necessarily notice when you are put together but they 100% notice when you aren't," she says. Check out Drybar (various locations) for a picture perfect blowout (in fun names like Manhattan and Straight Up) for $40, including the wash.
Photo: © John Shearer/WireImage
Best: Sofia Vergara
It doesn't even seem worth it to mention how amazing Sofia Vergara looked at last night's SAG Awards. It's like saying the sky is blue. At this point we know she's going to show up in a gorgeous dress with great hair and makeup.
Photo: © Jason Merritt/Getty Images
Best: Emily Blunt
Emily Blunt showed up wearing one of our favorite looks of the night. Not only did the neon green hue compliment her dark locks and creamy skin, but it's one of the hot colors for this coming Spring.
Photo: © Jeff Vespa/WireImage
Worst: Busy Phillips
Do you think Michelle Williams ever gets embarrassed showing up with best friend Busy Phillips? She often ends up on the Worst Dressed list, and this hideous ensemble is just one example of why.
Natalie's post-baby body looked amazing draped in this maroon Giambattista Valli gown. Her simple
hair
and makeup helped keep the focus on her frock.

Photo: © Jason Merritt/Getty Images
Best: Zoe Saldana
Zoe had our jaws dropping for two reasons last night. She wowed in this white Givenchy number and she showed up with co-star Bradley Cooper, fueling rumors that the two are dating. Not sure what we want more: the dress or her date.
Photo: © Jeff Kravitz/FilmMagic
Worst: Kristen Wiig
This dress might actually have looked fantastic on Kristen Wiig, but there's one accessory that just kept it from being a red-carpet winner. Can you guess which one? If you picked the giant dog collar necklace, then you are right. This large choker needs to go back to whatever S&M closet it escaped from.
Photo: © Dimitrios Kambouris/WireImage
Best: Rose Byrne

We know this isn't a look everyone is going to go for, but just hear us out. If you want to rock a pantsuit, this is how it's done. The sparkly Elie Saab outfit paired with Rose Byrne's chic blunt cut makes for a fabulous 70s-inspired look reminiscent of Michelle Pfeiffer in Scarface. Bravo, Rose!
Sarah Hyland may play a high school student in Modern Family, but she is actually in her 20s, which is why we loved this simple yet sexy dress. Her soft makeup and upswept hair allowed us to focus on the beautiful embellishments of her Temperley gown.
Photo: © Alberto E. Rodriguez/Getty Images
Shailene Woodley has looked beautiful in the past, which is why we were shocked to see her make this awful style choice. The clinging fabric hangs on all the wrong parts, and since her hair is pulled back in a low ponytail, there is no where else for our focus to go.
Photo: © Alberto E. Rodriguez/Getty Images
Best: Emma Stone
Emma Stone continued her red carpet style streak with this Alexander McQueen dress. The length and shape make the look fun and flirty, and her bright pink lipstick only adds to it.
Photo: © Jason Merritt/Getty Images
Best: Octavia Spencer
Not only does Octavia Spencer keep winning, but she keeps working it on the red carpet. Her dress is so very age appropriate without being completely boring. The soft grey was a popular color at this awards show, and it looked great on her.
Photo: © Jeff Vespa/WireImage
Worst: Emilia Clarke
We're not sure what The Game of Thrones' star was thinking when she showed up in this dress, but we're definitely not fans. The black and white combo can look sleek and simple when executed correctly, but when it's not, it comes off as a bad 80s prom dress.
Photo: © Jason Merritt/Getty Images
Best: Naya Rivera
The Glee star really brought out the sexy with this Naeem Khan dress. It showed just enough skin without being too revealing, and the beaded detailing was absolute perfection.
Photo: © Jason Merritt/Getty Images
Best: Ashlee Simpson
It's been a while since we've seen Ashlee Simpson at a red carpet event, but she dazzled in a flapper-esque black dress. She even seemed demure covering her cleavage with sheer black tulle, while escorting her Boardwalk Empire actor boyfriend.
Photo: © Steve Granitz/WireImage
Worst: Jenna Ushkowitz
If style were a class at the Glee high school, then Jenna most certainly failed. Her dress hardly seems formal enough for a winter formal, nevermind a red carpet awards show.
Photo: © Jason Merritt/Getty Images
Best: Viola Davis
Viola Davis looked like a Grecian goddess in Marchesa last night. Her gold jewelry and eyeshadow only helped accentuate the embroidery of her dress without being too matchy.
Worst: Jessica Chastain

Jessica Chastain is so beautiful and so talented, so why, oh why, can't she find a proper
stylist
? Although she did slightly better at this awards show, she was certainly not Best Dressed material. The light blue dress was far too simple and didn't do her figure any favors.
Worst: Ellie Kemper
There seems to be a trend of funny women ending up on Worst Dressed lists. This particular gown was so wrong. The style and fit had such a dated feel to it, and her teal eyeshadow was overkill.
Worst: Gretchen Mol
It seems the Boardwalk Empire actress was wearing a mix between a Greek toga and a kimono. Whatever the case, she is far too pretty to be seen in such an awful dress.
Worst: Jane Krakowski
Jane Krakowski's dress looked like it couldn't make up it's mind. While the silhouette of the dress was nice, it took a weird turn at the gold Selena-like bustier.
| | |
| --- | --- |
| | DailyMakeover.com from Makeover Solutions, Inc., is the web's leading beauty information site, providing virtual makeover technology and content for women to create personalized makeovers. DailyMakeover.com's virtual Makeover Studio enables users to see themselves wearing numerous hairstyles, makeup shades and fashion accessories to create their best makeovers, which can be saved, printed, or emailed. DailyMakeover.com is headquartered in New York City. |
I love finding the best new beauty products and chic fashion items from season to season! As Founder and Chief Creative Officer of PageDaily, wife, mother of two children (and an adorable Shih-tzu), my days are action packed from morning to night, seven days a week. I find myself more and more turning to the internet for my market research and online purchasing. The daily overload of information combined with too many choices and places to shop, and countless items to buy can be overwhelming at times. I am so excited to have found a solution and can't wait to share my latest best-kept secret and go-to online shopping destination: StyleUnited. The new online hub is a streamlined and efficient one-stop destination for the most cutting edge beauty and fashion news. They also pick items that are specially tailored just for you!
It is so easy to shop their personalized head to toe recommendations by taking the Style 360 quiz. All you have to do is answer a few fun questions about the looks you like, pattern combinations you prefer, create your own outfit out of styles provided and in a matter of seconds you have your very own customized picks! The Style quiz is highly adept and super smart at selecting the best skincare, haircare, cosmetics and fashion for you. I love how user friendly it is–in fact, my Style quiz continues to be spot on in the "looks I'd love!"
StyleUnited also features exclusive articles, slideshows, blog posts and helpful how-to videos from the industry's leading experts. Want to create loose sexy waves and top hair styles to do with a curling iron? Check. Want to learn how to do a colorful smokey eye or waterproof your look? Check. Log on and score some of the best beauty and fashion information from influential stylists, top bloggers and online editors. Providing insider tricks, tips and product picks is my motto and I think StyleUnited is an amazing resource.
StyleUnited's one-on-one live webcam consultations with professional beauty experts give you a department store shopping experience without ever having to leave your own home (which saves you time)! I enjoy chatting with the live consultants because they give you real time recommendations and advice. This is perfect for preemptive shopping or any last minute help you need before heading out the door.
StyleUnited gives you direct access to purchase your recommended beauty and fashion finds with the click of a button. I can shop my picks straight from their site and don't have to spend hours, or even minutes searching for things. Some of their retailers include CVS, Amazon.com, Walgreens, Target, Soap.com, Walmart, Drugstore.com, Ulta and P&G's own eStore.
StyleUnited helped me to select the stylish items and products that I truly need and love…I'm addicted! And, with a limited amount of free time each day, it's not always easy to make the best shopping decisions. Be sure to check out this fabulous new site and take your very own Style 360 quiz–it's fun and you will be impressed by the results.
This post is sponsored by P&G Beauty. The information included is the honest opinion of our editor.
I am so busy running around the city and getting ready for fashion week. I can't believe it's almost here! I'm already planning my outfits, organizing my crazy show schedule and trying to fit in some time for parties and socializing! I enjoy the frenzied fun so much and would not have it any other way. I'm particularly looking forward to attending the Kohl's Rock & Republic Fashion show.  Did you know Rock & Republic is launching a line for Kohl's this spring? I can't wait to check out the chic styles and report back to you!  Plus, I am sure there will be some great celeb sightings too–you know how much I Iove to share all of their best fashion, beauty tips, and tricks with you.
Stay tuned! xx Melissa
Update! Kohl's Rock & Republic Fashion Line is officially available to purchase !
"Kohl's provided compensation to me as an incentive to blog about the Rock & Republic launch event. The opinions expressed herein are those of this author, and they have not been reviewed or approved by Kohl's in advance."
I love wearing statement necklaces and layering chic jewelry to infuse style into my daily outfits– which are what I like to call "successories." A successory (see my quote on page 107 of this month's People Style Watch) is a special accessory that is successful at taking your look from good to glam in record time! A successory can be a great leopard bag or a fab pair of earrings. The necklaces below certainly fit the bill and here are my favorite for the season:
Dannijo Medine Necklace, BUY NOW, $495
The fabulous sister team behind Dannijo create the most gorgeous and unique statement necklaces. Their Keira Bib style is an antiqued Copper chain with marble resin beads, and the taupe and turquoise color palette make for perfect spring shades. I love the versatility of this piece from dressing up a simple white tee to a sexy cocktail dress. Dannijo is a favorite of Kim and Kourtney Kardashian, Alexa Chung, Michelle Trachtenberg and style blogger "Man Repeller" Leandra Medine.
Jennifer Miller Swarovski Crystal Horn Necklace, BUY NOW, $295
I am obsessed with my Jennifer Miller Crystal Horn Necklace and like to wear it with my Ramy Brook dresses, or with jeans and a silky top. The yellow gold-plated necklace is on a 36" link chain and falls in just the right spot. It's chic style finishes off any outfit! Jennifer Miller has cultivated a celeb following including Beverly Hills Housewives Kyle Richards and Lisa Vanderpump, New York Housewife Countess LuAnn de Lesseps and Angelina Jolie.
T.Cyia "Atomic" Gold Multi Chain Scarf Necklace, BUY NOW, $205
The T.Cyia handmade Multi Chain Necklace is a stylish and versatile piece that can be worn as a scarf, tied in a knot or double wrapped. Mixed metals make it on-trend and easy to wear with everything including gold and silver jewelry. The talented LA-based design team Tim McElwee and Cyia Batten create these beautiful pieces that are incredibly artistic. They are also favorites of Jennifer Lopez, Kate Walsh and Melissa George.