If you're celebrating the 4th of July with a cookout or backyard party, you need certain items to make your soiree complete. We've hand-selected the coolest picks for outdoor entertaining this season that your guests will love. Whether you're heading to a BBQ or picnic tomorrow or any other day this summer, these smart and stylish items will make the most of your summer day.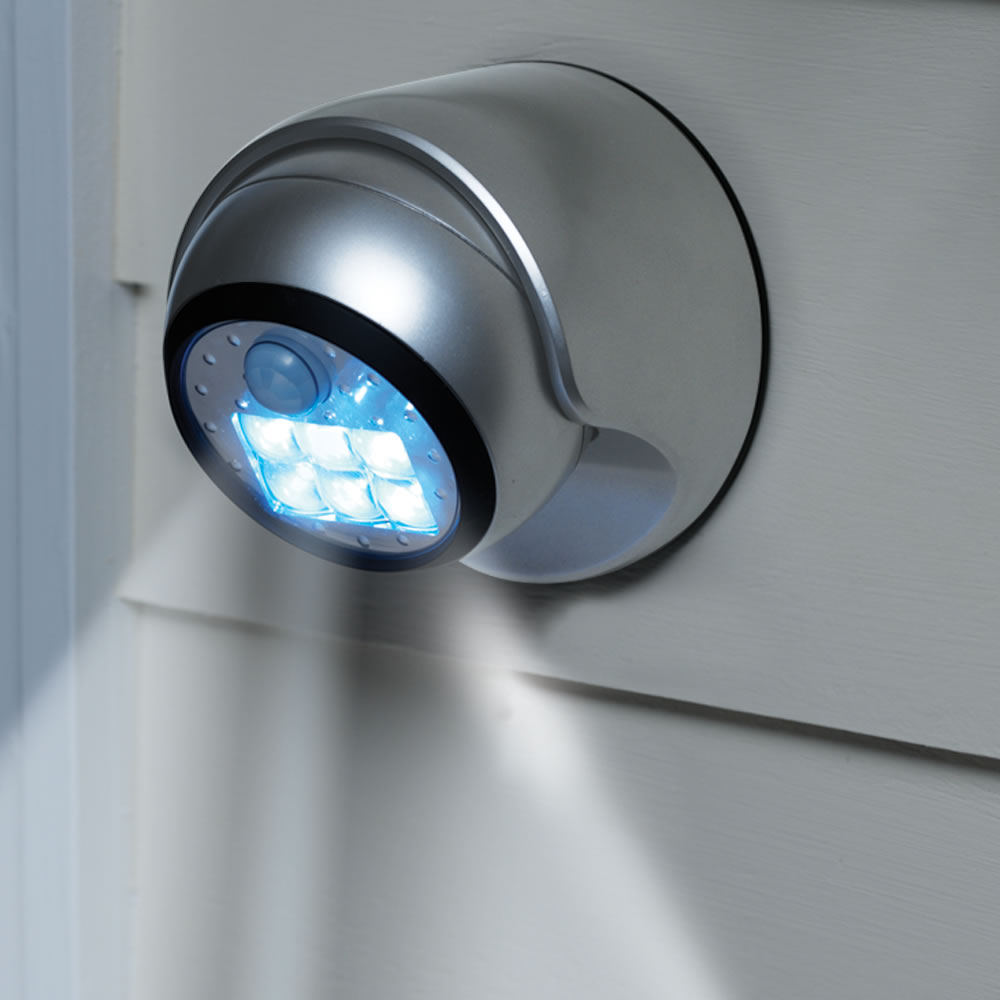 Hammacher Schlemmer The Cordless Motion Activated Light, $39.95
Keep your party going long after the sun goes down with these cordless and weatherproof outdoor lights.  Light your porch, deck or patio without having to worry about complicated wiring or replacing batteries.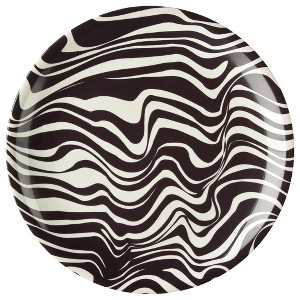 Privet House at Target Wild Appetizer Plates set of 4, $12.99
Melamine tableware is perfect for outdoor dining and Target has a diverse selection.  We especially love these fun and inexpensive zebra print plates!

Black Box Wines, prices vary
Think inside the box with an upgrade from the usual low-brow boxed wine.  Black Box wine is a delicious alternative to a bottle at a great price tag.  It's perfect for a pool or park where glass is prohibited, plus you don't need a corkscrew!

Tabletop Cylinder Torch, $19
These gorgeous torches add ambiance and ward off mosquitoes.  These inexpensive additions to your tabletop are also refillable, making them more convenient than regular citronella candles.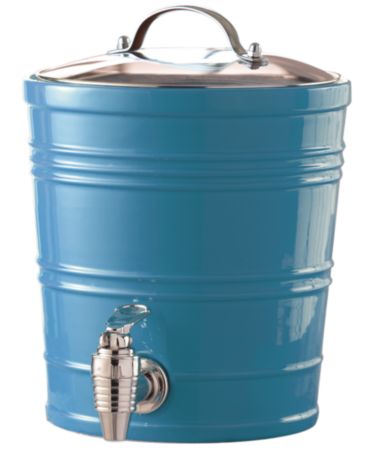 Ceramic Drink Dispenser, $39.99
Mix up your favorite summer drink and let guests serve themselves from this ceramic dispenser.  It comes in fun colors to go with any decor. 

Picnic Time Picnic Basket, $66.99
This picnic basket is cute for a summer date.  It comes equipped with wine glasses, a corkscrew, napkins and a cheese board and knife for the perfect outdoor afternoon.
Monogrammed Grill Tools Set with Storage Case, $92
The grillmaster will love having his own sleek, personalized tools.  This high-quality set comes in a convenient carrying case for storage or any guest grilling appearances!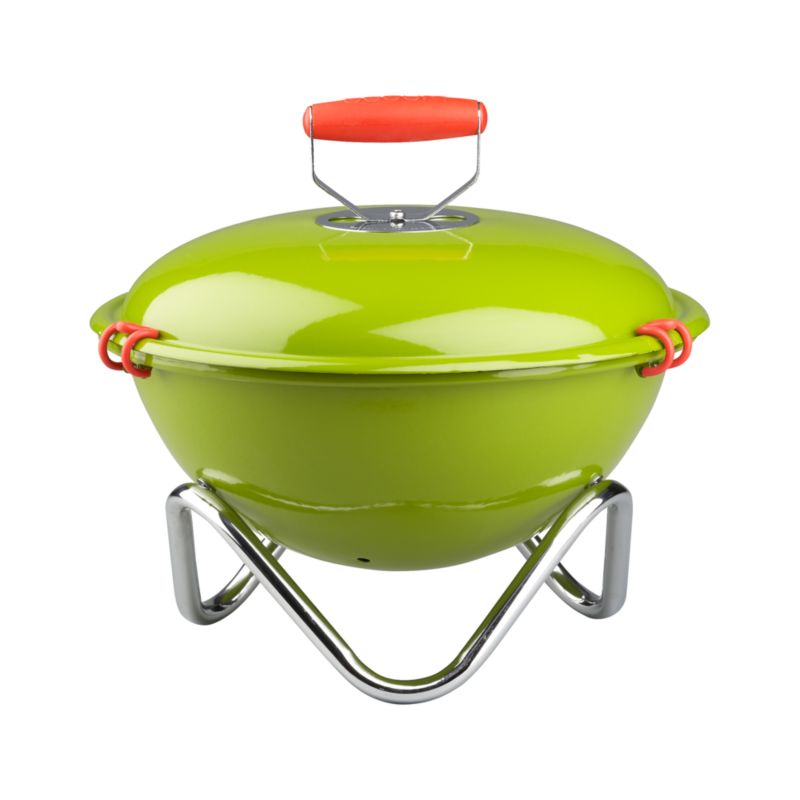 Bodum Fyrkat Green Grill, $59.95
A tabletop grill is perfect for rooftop or beach barbecues.  It's portable and compact, and totally chic in this green shade.

Personalized Riviera Green Cocktail Napkins, $52 for 100
Personalization makes everything extra special and these summery striped cocktails napkins are no exception.  These also make an amazing hostess gift!

Smoking addictions aren't always a bad thing. Summer means barbeques, and the smell of burning coals on a smoky grill turns food snobs into kids clamoring for burgers and hot dogs, along with steaks, kebabs, even corn on the cob. So feed that smoking addiction with these top picks for grill tools and accessories—and we like our hot dogs well done, please.

Buy the Grill Charms Collection, $30, at at behindtheburner.com

Best BBQ Accessory: When you host a barbeque, your charming personality means less to guests than your ability to cook to order—steaks spicy or mild, burgers with or without cheese, and art of  medium-rare versus plain old medium. The Grill Charms Collection turns you into a world-class short-order cook.
BBQ Grilling Tip: Ditch the notepad next to your grill, and use these push-in labels to separate your meats.

Buy All-Clad Stainless Steel BBQ Set, $119.99, at macys.com
Silver-Style Grill Tools: In the grilling world, style means silver. And you must always grill in style—Dad and Mom aprons don't count. All-Clad's Stainless Steel BBQ Set features a two-pronged fork, a marinating brush, locking tongs, and a turner.
BBQ Grilling Tip: Since All-Clad's extra-long handles keep your hands safe from the heat, the only thing getting grilled is your meal.

Buy Chef of the Future's Not Your Average Cajun Seasoning, $20, at behindtheburner.com
Adding Flavor to Barbeque: Grilling adds great flavor to food, but so does great seasoning. For spice lovers, impress your guests with Chef of the Future's Not Your Average Cajun Seasoning.
BBQ Grilling Tip: Use as a rub for meat, fish, or whatever your heart desires. Hours of marinating are no longer essential to spike your food with intense flavor.

Buy Fire Wire BBQ Skewers, $12, at behindtheburner.com
Cool Grill Tools: Wires near flames equals bad, right? Not with Fire Wire BBQ Skewers. String multiple meats and veggies together on Fire Wires without the end bits falling off.
Hot BBQ Technique: Take advantage of these flexible wires to turn your meats constantly for even browning.

Buy Boston Warehouse Serveware, Picnic Party 3 Piece Grill Condiment Bowl, $16, at macys.com
Beyond the Grill Accessories: For some, it's all about the condiments. Give ketchup and mustard some serving flare with mini grill-shaped bowls.
BBQ Grilling Tip: Store these bowls next to the grill so you're always prepared to add ketchup, mustard, or relish for your guests.

Buy Boston Warehouse Serveware, Set of 4 Picnic Party Cocktail Plates, $20, at macys.com
Show off Your Grill: To properly frame your grilling masterpiece, no fancy plating techniques are required, just fancy plates. Boston Warehouse Serveware Party Cocktail Plates pop in this red and white print.
BBQ Grilling Tip: Lack serious grill skills? These plates at least make your food look great—then serve with a cocktail!

After firing up the BBQ with these tips and product picks, top off your holiday weekend with a killer summer cocktail. Read My Mixed Tape of Cocktail Recipes.
A Great Gift for the Host: Grill Set
Every great grill needs great tools. Bring your hosts the ultimate personalized touch for a BBQ gathering, a monogrammed tools set! It even comes with a sleek storage case.

Buy Monogrammed Grill Tools Set, $99.95, at williams-sonoma.com