Fashion Week is in full swing–there are so many fab events and shows to attend! One of the best so far this season was the Kohl's Rock and Republic show. I loved so many of the edgy chic styles and was able to catch up with some of the hottest celebs there (Ashlee Simpson told me that she uses
La Mer moisturizer
every day…no wonder her skin looks so luminous)! Spotted in the front row was Molly Sims sporting the cutest baby bump, hottie Chace Crawford, Ed Westwick, Penn Badgley, Ashlee Simpson, Tinsley Mortimer and Kelly Bensimon among others. My favorite looks included a perfect short and fitted LBD, an off the shoulder striped micro mini dress styled with layered necklaces and stacked bangles, the cutest denim shorts paired with wearable tees, cropped jeans in colors and denim and some great downtown looks for men. I also really loved the ruched off the shoulder dress designed in a fresh, light blueish-green color–perfect to rock at a cocktail party. I am so excited that these looks are available
right now
— no waiting until Fall necessary. What do you think of them? Let me know below!
"Kohl's provided compensation to me as an incentive to blog about the Rock & Republic launch event. The opinions expressed herein are those of this author, and they have not been reviewed or approved by Kohl's in advance."
I see so many looks I love during New York Fashion Week but it's not often that I get the chance to wear any of them right away. That's why I have to share with you some of my favorite looks from the Kohl's Rock and Republic show last week… the styles are available in stores now as of today! You can also shop for them online. From casual jeans and tees to edgy rocker chic dresses, this line really had something for everyone. Here are some of my favorite looks: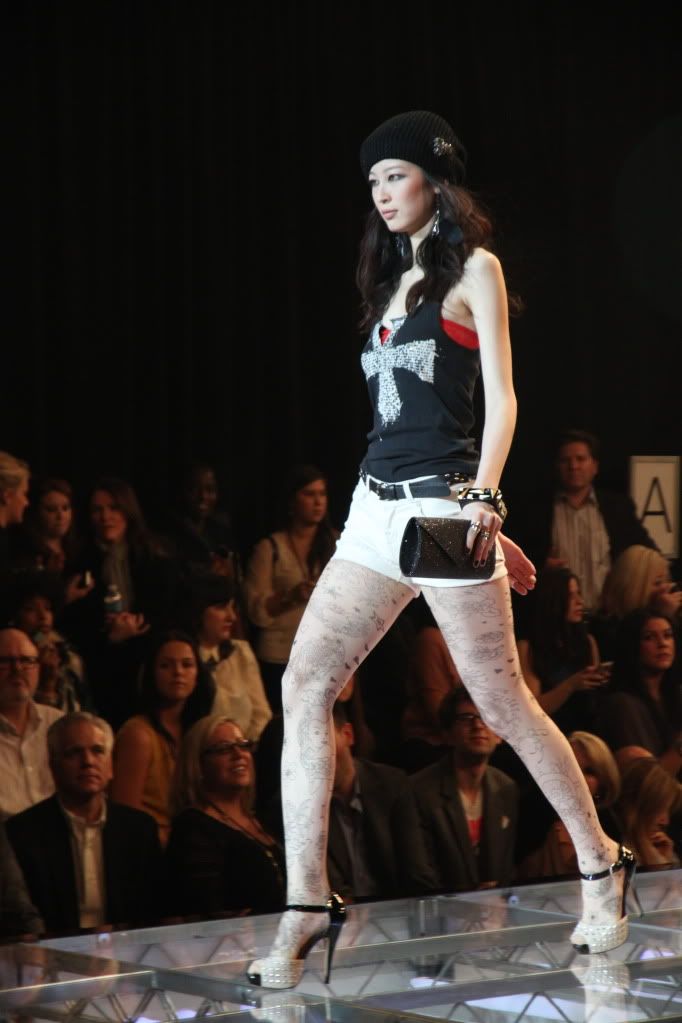 Edgy Tank I love to wear tank tops year round, especially pairing them with cool cardigan sweaters or cropped jackets. This one is a perfect addition to any rocker wardrobe…the cross and stud embellishments are super chic. It works well with all types of jeans whether colored or denim, skinny or flare!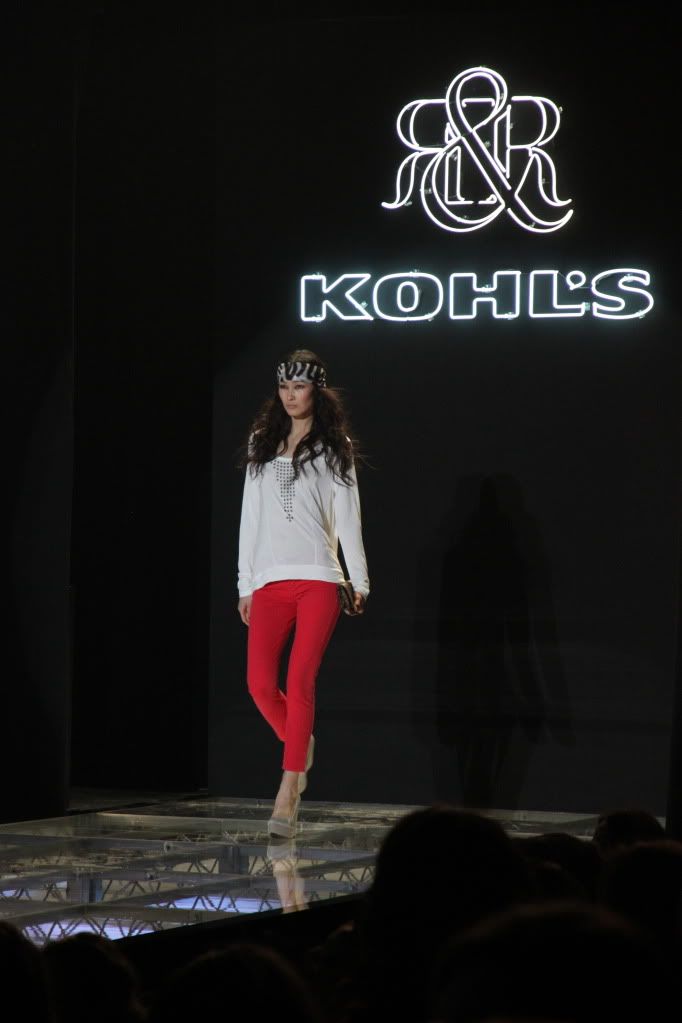 Colored Jeans Rock & Republic is of course known for a great pair of jeans, but why stick to just denim? I think this bright red is a new wardrobe staple – perfect for the girl who wants to stand out!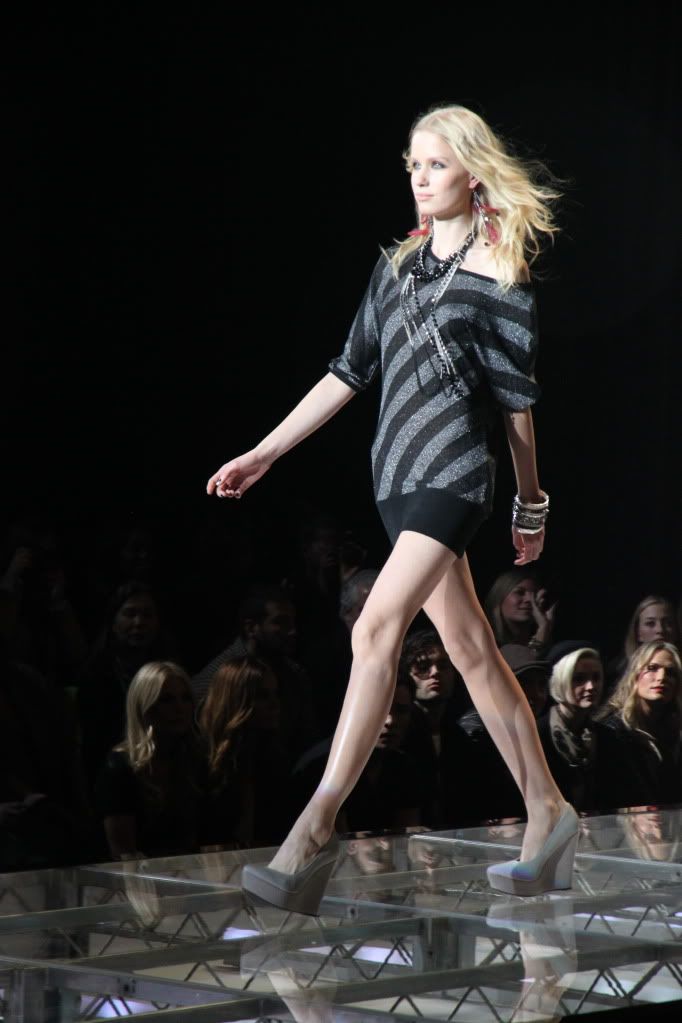 Little Striped Dress There were so many edgy and cute pieces in this collection. One of my faves is this mini striped off the shoulder dress. I love the shimmery stripes and it's a perfect day to night look. Wear with fun tights and boots with a cropped biker jacket to finish off the look.
I loved attending the fashion show and even spotted some celebs like mom-to-be Molly Sims, the very sexy Chace Crawford, Ed Westwick, Penn Badgely, Tinsley Mortimer, Ashlee Simpson and Kelly Bensimon. Check out this video featuring some of the celebs as well as looks from the runway: http://www.youtube.com/watch?v=ArurB6mmdlY&feature=relmfu
"Kohl's provided compensation to me as an incentive to blog about the Rock & Republic launch event. The opinions expressed herein are those of this author, and they have not been reviewed or approved by Kohl's in advance."

We asked Kelly Bensimon of Bravo TV's Real Housewives of New York City to tell us a few of her favorite things.
WHAT IS YOUR FAVORITE . . .
Designer
KB: Jenna Lyons, Derek Lam
Store
KB: H&M
Workout
KB: SoulCycle, riding horses
Travel Destination
KB: Tulum, Capri
Restaurant
KB: Nobu, Delicatessen
Night Spot
KB: Boom Boom Room, Tortilla Flats
Book
KB: Ernest Hemingway's "Garden of Eden"
Song
KB: 'Mexico' James Taylor, anything Adele
Biggest Splurge
KB: Manolo Blahniks
Best Bargain
KB: Restoration Hardware Outlet Furniture
Can't Live Without This Beauty Item
KB: Brown Sugar Body Scrub by Fresh
Guilty Pleasure
KB: Calamari, Skinny Cows, Starbucks
Watch our fun game called "PageDaily This or That," where Melissa Meyers interviews some of our favorite Bravo characters and gets the inside scoop.
Have you seen Melissa Meyers exclusive interview with Ramona Singer? Watch our behind the scenes video.
Image courtesy of Seth Sabal
By Jennifer Wright
Guess what our favorite party was this week? Give up? The party celebrating the opening of the GUESS flagship store in Soho. Hosted by Marie Claire magazine, Michelle Trachtenberg and the Marciano family, the event has been generating all kinds of buzz.
Trachtenberg had the guests atwitter over her Gossip Girl character, the villainous Georgina Sparks, and what mayhem she may cause during the upcoming season. (The best show ever will resume September 14th—I'm counting down the days.) Rumor has it, she's about to become a major player on the series. Trachtenberg couldn't (wouldn't?) share, but she did say that doing the show was great fun, and, "You'll definitely be seeing a lot more of Georgina in season 3." She also gushed, "Georgina's crazy . . . over the top behavior is so fun to play". And it's so fun to watch, too! Is there romance on the horizon—perhaps with Penn Badgley's character, Dan? "Maybe," Trachtenberg confided, "I can tell you that there will be a boy involved."
Trachtenberg's good friend Lydia Hearst was there, clearly recovered from her recent illness. Many have seen her looking "healthy" in Miles Fisher's American Pyscho-inspired music video (a pop-y cover of The Talking Head's "This Must Be the Place"). The provocative performance has all agog. (One viewer remarked that "what the video lacks in ingenuity, it makes up for in Lydia Hearst wearing lingerie".) Hearst demurred, "I'm really very conservative in real life!" She was also very happy to support Fisher—who gained notoriety last year for his admittedly spot-on impersonations of Tom Cruise—who is her close personal friend.
And, as seems to be the case in at least half of the parties we attend lately, Kelly Bensimon was present. She looked less bohemian than usual in a black skirt and white off the shoulder top, confiding it was all GUESS—though I'm not sure that extended to her bubblegum-pink shoes—and that she's a huge fan of the line.
Amber Rose (Kanye West's girlfriend) was also sporting the GUESS brand, announcing she'd styled it herself.  Another fashion model, Selita Ebanks—best known for parading around in her underwear for Victoria's Secret— was wearing a white sundress that seemed positively demure in comparison.
You can copy the stars' looks—no stylist required!—by venturing to the GUESS store in SoHo. Perhaps you'll even run into some of the ladies. If you see Trachtenberg, please see if you can convince her to spill secrets about Gossip Girl—I, for one, am tired of playing guessing games.
Pictures via Theo Wargo