You might think that modeling is all about good genes, but I'm about to let you in on a little secret…
There's actually quite a science to posing—and after many years in the biz and many magazine covers, I like to think I have it down to a T!
Here are my top 3 tips for looking good in pictures:
1. Keep your chin cocked down ¾ of the way for the most flattering angle for your face.
We are living in a world of information overload these days so how do you know which websites and newsletters are worth your time? After scouring the e-world, I put together a list of my favorite online destinations that are perfect for fashion and lifestyle junkies.

1. Edition01:
Edition01 is the first online luxury experience designed to spotlight and sell limited edition fashion pieces from leading designers in one of a kind capsule collections. Collaborating with Vera Wang, Zac Posen, Narciso Rodriguez and Thakoon (to name a few), founders Estefania Lacayo and Jessica Wilpon Kamel offer you a unique shopping and lifestyle experience which has already been touted by Vogue, WWD and Marie Claire to name a few. Their minimalistic and inviting web site is blog style making it very easy to shop their collections which are grouped by designers and lifestyle categories ("Travel Boutique"). You can also have a personalized shopping experience by using their "My Edition" feature to track what you want, need and bought and get recommendations for building your perfect wardrobe. I love that Edition01 goes beyond just shopping and gives you behind the scenes fashion intel in their Journal, stocked with insider interviews, celebrity essentials and designer inspirations.
Fashion Week is in full swing–there are so many fab events and shows to attend! One of the best so far this season was the Kohl's Rock and Republic show. I loved so many of the edgy chic styles and was able to catch up with some of the hottest celebs there (Ashlee Simpson told me that she uses
La Mer moisturizer
every day…no wonder her skin looks so luminous)! Spotted in the front row was Molly Sims sporting the cutest baby bump, hottie Chace Crawford, Ed Westwick, Penn Badgley, Ashlee Simpson, Tinsley Mortimer and Kelly Bensimon among others. My favorite looks included a perfect short and fitted LBD, an off the shoulder striped micro mini dress styled with layered necklaces and stacked bangles, the cutest denim shorts paired with wearable tees, cropped jeans in colors and denim and some great downtown looks for men. I also really loved the ruched off the shoulder dress designed in a fresh, light blueish-green color–perfect to rock at a cocktail party. I am so excited that these looks are available
right now
— no waiting until Fall necessary. What do you think of them? Let me know below!
"Kohl's provided compensation to me as an incentive to blog about the Rock & Republic launch event. The opinions expressed herein are those of this author, and they have not been reviewed or approved by Kohl's in advance."
I see so many looks I love during New York Fashion Week but it's not often that I get the chance to wear any of them right away. That's why I have to share with you some of my favorite looks from the Kohl's Rock and Republic show last week… the styles are available in stores now as of today! You can also shop for them online. From casual jeans and tees to edgy rocker chic dresses, this line really had something for everyone. Here are some of my favorite looks: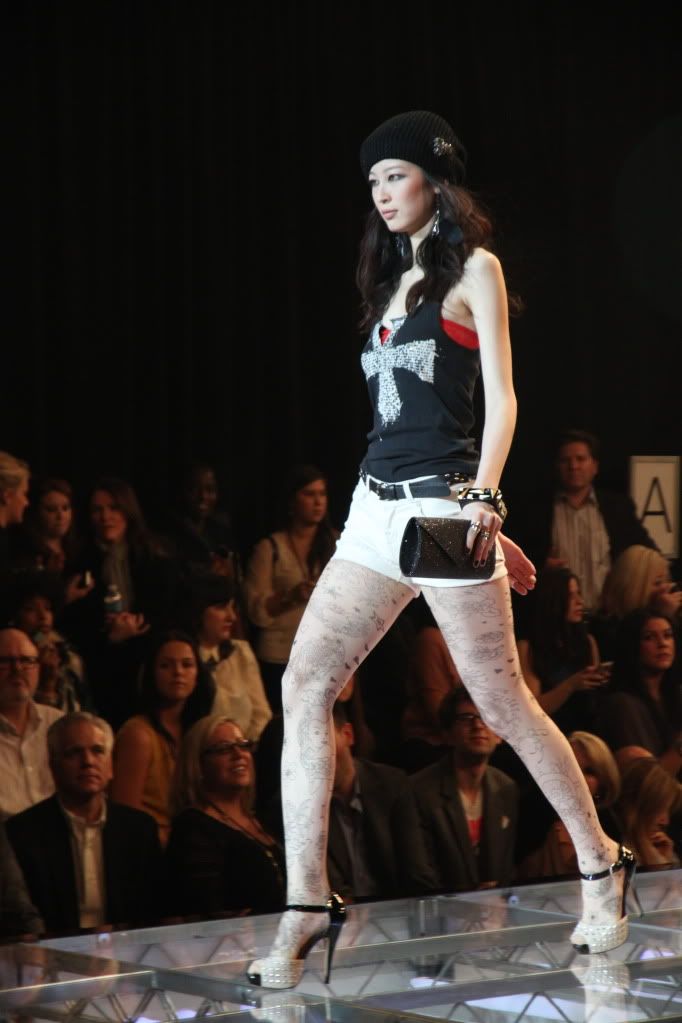 Edgy Tank I love to wear tank tops year round, especially pairing them with cool cardigan sweaters or cropped jackets. This one is a perfect addition to any rocker wardrobe…the cross and stud embellishments are super chic. It works well with all types of jeans whether colored or denim, skinny or flare!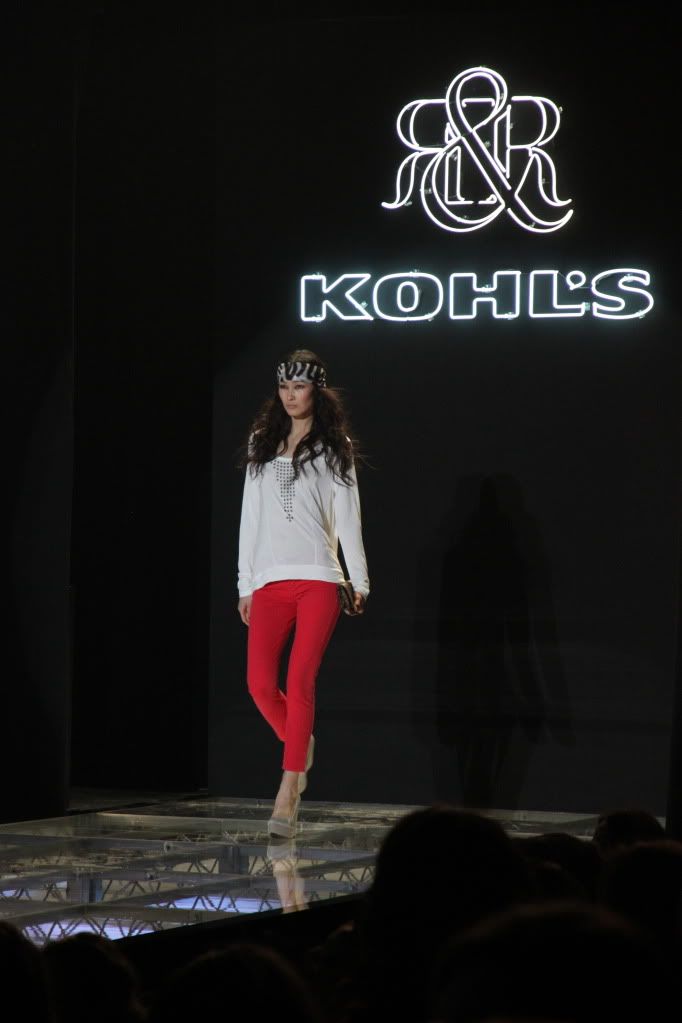 Colored Jeans Rock & Republic is of course known for a great pair of jeans, but why stick to just denim? I think this bright red is a new wardrobe staple – perfect for the girl who wants to stand out!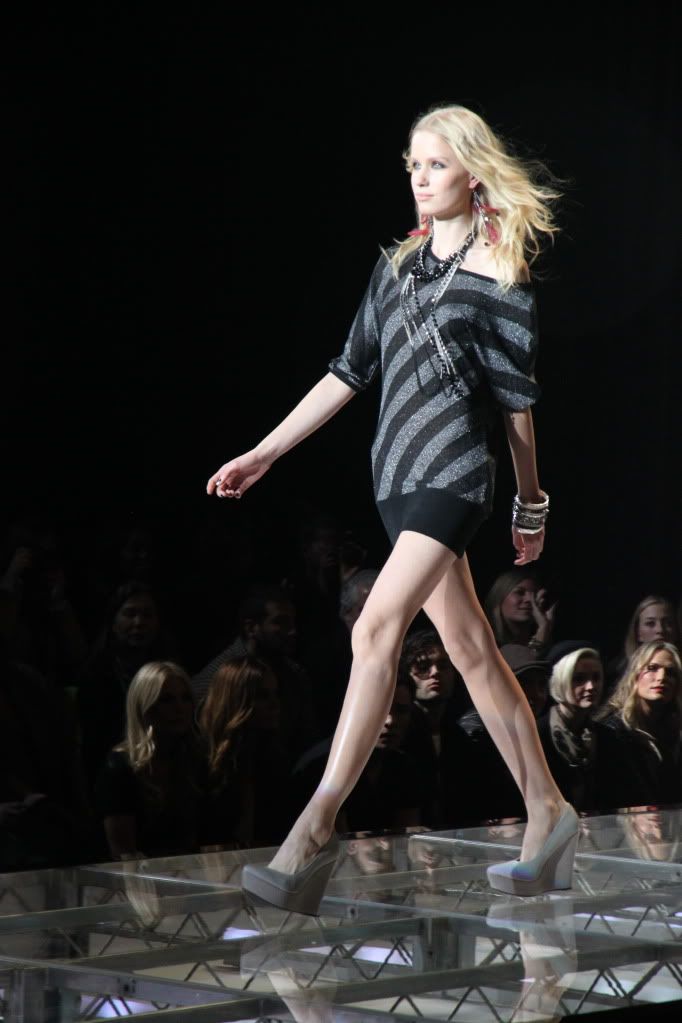 Little Striped Dress There were so many edgy and cute pieces in this collection. One of my faves is this mini striped off the shoulder dress. I love the shimmery stripes and it's a perfect day to night look. Wear with fun tights and boots with a cropped biker jacket to finish off the look.
I loved attending the fashion show and even spotted some celebs like mom-to-be Molly Sims, the very sexy Chace Crawford, Ed Westwick, Penn Badgely, Tinsley Mortimer, Ashlee Simpson and Kelly Bensimon. Check out this video featuring some of the celebs as well as looks from the runway: http://www.youtube.com/watch?v=ArurB6mmdlY&feature=relmfu
"Kohl's provided compensation to me as an incentive to blog about the Rock & Republic launch event. The opinions expressed herein are those of this author, and they have not been reviewed or approved by Kohl's in advance."

The New Year is a great time to get into shape and there is no better way to do so than with the perfect workout gear. From stylish activewear to motivational yoga mats, become a fitness enthusiast this year and look chic even when you sweat!
1. Molami Bight Nappa Black and Gold Headphones, BUY NOW, $200
Molami is the ultimate in sleek headphone design and quality headphones can really make or break your fitness routine! The brainchild of industrial designer Maria von Euler, these headphones are sculpted to frame and enhance the feminine face. From their braided textile-wrapped chords to their gold and silver plated accents, no detail is overlooked. The Bight Nappa Black and Gold style is futuristic chic with excellent sound quality. They've only recently launched in the United States and have already been spotted everywhere from the runway to Style.com's fashion radar.
2. Blake Brody In-Studio Footwear, BUY NOW, $98
Blake Brody makes extremely stylish In-Studio Footwear designed specifically for use while practicing your dance moves, yoga poses or Pilates. People Magazine, Vogue and Allure have featured these flats, which are ergonomically designed to compliment the foot's natural range of motion with their elastic collar and padded footbed for comfort. These adorable flats are on every yogi's radar and recently caught the attention and foot of fashionista, socialite and Marie Claire blogger Amanda Hearst.
3. Red Daisy Ginger Low-Rise Long Pant, BUY NOW, $95
The Red Daisy Ginger Low-Rise Long athletic pant is a stylish long tight with special side panels engineered with horizontal and vertical stretch that provide light compression throughout your legs. Their double fabric technology contours the body, slimming your silhouette to make your butt and thighs instantly look thinner! They are a total style upgrade and their fabrication gives you a more efficient workout than regular cotton leggings.
4. Alo Uber Cozy Hoodie, BUY NOW, $89
Layering is crucial for staying warm and healthy while working out during the winter months and I love this Alo style. The zip front hoodie is lined with super soft sherpa and is great for an outdoor run or post work-out cover up. Jessica Alba, Eva Mendes and Ellen Pompeo are notorious Alo fans and have been spotted in the activewear while working out and running errands around town.
5. Yogamatic Keep Calm Personalized Yoga Mat, BUY NOW, $89
A great way to practice yoga is atop the motivational mantra to "Keep Calm and Carry On" on Yogamatic's personalized mat! Did you know this recently popularized slogan originated in 1939 as a way to ensure the people's awareness that King George VI was adequately defending the country? And although I love this style, Yogamatic will custom make any image into your favorite yoga mat. The personalized gear are favorites of celeb yogis Halle Berry, Kate Bosworth and Molly Sims, whose mat is an adorable picture of her dogs.
6. Anatomie 3/4 Sleeve Henley in Pink, BUY NOW, $89
This 3/4 sleeve Anatomie Henley is one of my favorite tops to wear over a workout tank when going to the gym or exercise class. It is super soft, perfect for layering and has snap-button details for added style. Jennifer Aniston's yoga teacher, Mandy Ingber loves their stylish and high quality designs.
7. Red Daisy Princess Camisole Tank, BUY NOW, $81
Designed out of the overwhelming need for a sleek and supportive workout bra, Red Daisy specializes in creating sports bras that provide excellent support from inside the bra cups rather than relying on bulky straps. Their comfortable and strong fabrics are made out of patented material from EuroJerseySPA, a specialty Italian mill and have been featured in both national and international publications like Women's Wear Daily. I love the color of The Princess Camisole Tank, it is feminine and chic with great overall support.
8. Primsport V-Neck in Watercolor, BUY NOW, $72
Notorious for their intricate patterns and stand out designs, Primsport is perfect for spicing up a drab workout wardrobe. In fact, it was born out of three women's passion (including the wife of Vogue veteran Tom Florio) for fitness and a vision to put the life back into traditional tennis clothing. Their V-Neck in Watercolor design is stylish and a great option for the fitness gal on the go as it looks like a regular shirt when worn with jeans.
9. Lululemon Power Y Tank in Lilac Heathered Coal, BUY NOW, $52
Lululemon's Power Y Tank is one of many great pieces from the activewear line which has a cult following of everyone from Michelle Obama and Kelly Ripa to Gisele Bundchen and Jennifer Lopez. The body skimming fit ensures that this top won't ride up, regardless of the intensity of your workout. This sleek activewear looks feminine in lilac and has a built in shelf bra that is lined with COOLMAX technology to wick away sweat. These tops are preshrunk so they run one size small.
10. Things Remembered Stainless Steel Water Bottle, BUY NOW, $25
Water bottles are essential to every fitness enthusiast. They are not only better for the environment, but unlike plastic, the stainless steel bottle makes sure water tastes pure with every sip. This 16 oz. design has a unique flip-top straw and the bottle can be engraved, so you can choose to etch on your favorite motivational mantra!
11. SPIBelt Small Personal Items Belt, BUY NOW, $19.95
The SPIBelt Small Personal Items Belt is a must have for runners! These slim pouches won't bounce or ride up during the most rigorous of workouts, so it's no wonder that it has become a favorite of marathon winner Jeanette Wang. They stretch tremendously to fit your phone, iPod and keys, and come in a variety of colors to suit any workout wardrobe. I am loving mine and they sure beat the look of a fanny pack.
By Katrina Caspelich

When Zico Coconut Water unveiled it's new "I am natural" ad campaign, I interviewed spokesmodel Molly Sims about her career from being an actress on TV's Vegas, to now an HSN jewelry designer. She shared her lifestyle tips, including the benefits of coconut water and must-have beauty picks.

KC: When did you first get involved with Zico?

MS: They found out that I love it. I was drinking it a while ago when I was working out with my trainer Tracy, and my work out was so strenuous it was taking a lot out of me. I lose a lot of salt, and this is the best drink for that. I don't have to eat a banana if I drink this [coconut water]—it has the same potassium content.
Buy Zico Pure Premium Coconut Water, Natural, $26.49 for pack of 12, at amazon.com

KC: You recently started your own HSN jewelry line, Grayce by Molly Sims. Are you wearing Grayce?
MS: Yes, I am wearing it. And we have the e-commerce site, graycebymollysims.com.

KC: What is your favorite item?
MS: Oh my gosh, I don't know, probably the mixed metal pieces, but I love the color accents too.
PageDaily pick: Buy Grayce by Molly Sims Braided Metal Bracelet in Gold, $69, at graycebymollysims.com
PageDaily pick: Buy Grayce by Molly Sims Resin Bangle with Crystal Point in Black, $79, at graycebymollysims.com

KC: What kind of women do you design for?
MS: Every woman—I think that's the key to my success. That it is great for my mom, and myself, and it's all under $250. It's all really affordable.

KC: You design jewelry, you obviously love accessories. What's your one must-have accessory?
MS: I am obsessed with my Valentino bag—they remade it. I'm so obsessed. I got it last season, and it's amazing. I'm having it dyed chocolate brown because I love it, and I cannot give it up.

KC: How do you stay fit?
MS: I love juicing. I am just about to try the Red

Carpet Cleanse in LA. They deliver it every morning. I love olive, spinach, and parsley. I have one every day of my life.
Buy Red Carpet Juice Cleanse, $90/day, at redcarpetcleanses.com

KC: What are the top 3 items in your makeup bag?
MS: I love Fresh Sugar Rose Tinted Lip Treatment. I love the Jouer Crème eyeshadow in Chiffon. It comes in Feather as well, it's really nice, and Cashmere. That whole palette is awesome. Their Luminizing Moisture Tint is also really good. It's not too orangey, and it comes in an SPF. I love Bobbi Brown Powder Pink Pot for lips and cheeks; it's a great everyday go-to. I love Chanel lip gloss, too.
Buy Fresh Sugar Plum Tinted Lip Treatment SPF 15, $22.50, at sephora.com
Buy Jouer Crème Eyeshadow, $20, at jouercosmetics.com
Buy Jouer Luminizing Moisture Tint in Bronzed, $38, at jouercosmetics.com
Buy Bobbi Brown Pot Rouge for Lips and Cheeks in Powder Pink, $22, at bobbibrowncosmetics.com

KC: What are your best fashion and beauty tips?
MS: Know your body, look in a mirror, have people be honest with you. Simple is always the best and find what works. If your foundation or your base works on you, keep it. And also, ladies, learn to use a primer because you sweat, and if you don't you are going to shine.

KC: You are a model, actress, and now a spokesmodel. What next?
MS: Trying to get back on TV. I had such an amazing 6 years of acting on Vegas. It just has to be the right thing.

KC: What is your guilty pleasure?
MS: Cake, M&Ms . . . oh, and I love trail mix!

For more celeb coverage, read Elizabeth Hurley's Latest Adventures and our Interview with Burlesque Dancer Dita Von Teese. Have a guilty pleasure? Tell us! Tweet @PageDaily or post it on our Facebook fan page.