If you're celebrating the 4th of July with a cookout or backyard party, you need certain items to make your soiree complete. We've hand-selected the coolest picks for outdoor entertaining this season that your guests will love. Whether you're heading to a BBQ or picnic tomorrow or any other day this summer, these smart and stylish items will make the most of your summer day.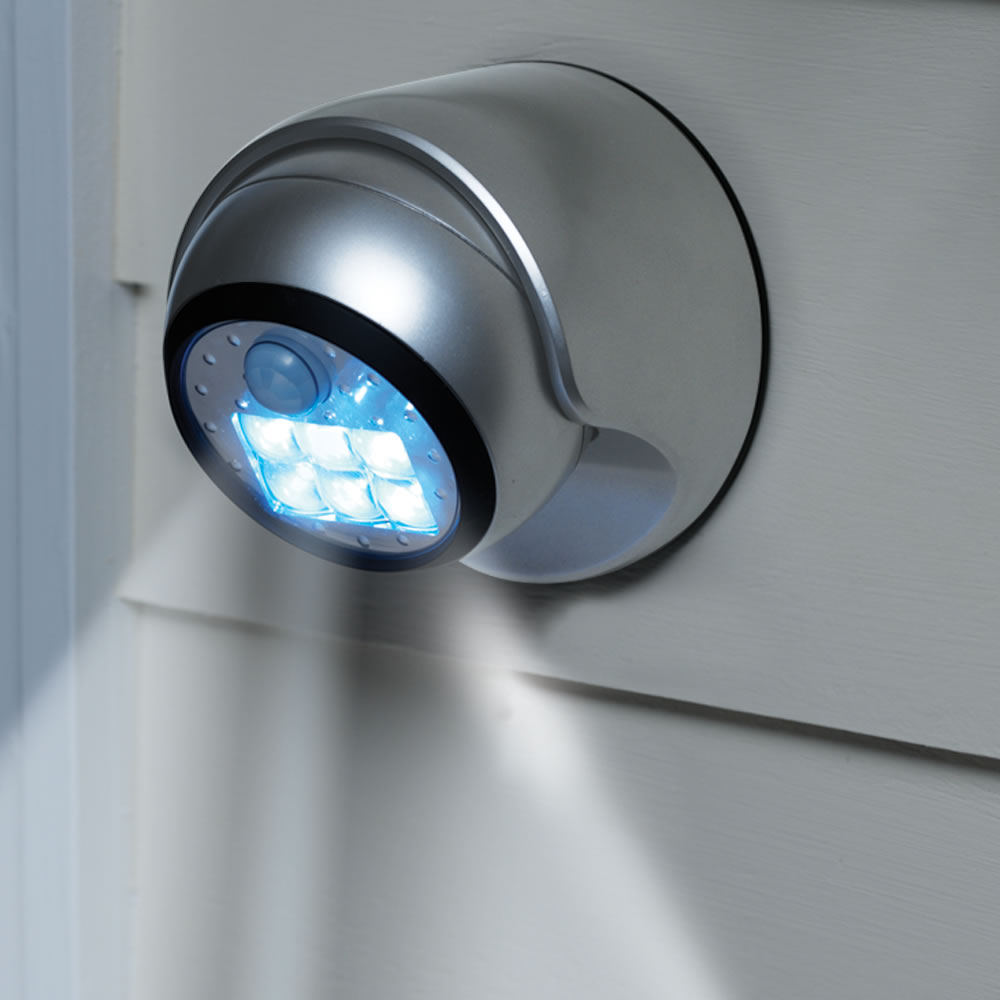 Hammacher Schlemmer The Cordless Motion Activated Light, $39.95
Keep your party going long after the sun goes down with these cordless and weatherproof outdoor lights.  Light your porch, deck or patio without having to worry about complicated wiring or replacing batteries.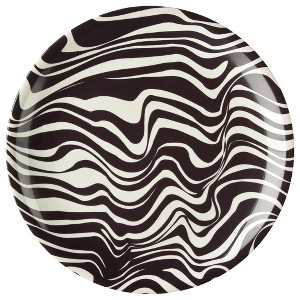 Privet House at Target Wild Appetizer Plates set of 4, $12.99
Melamine tableware is perfect for outdoor dining and Target has a diverse selection.  We especially love these fun and inexpensive zebra print plates!

Black Box Wines, prices vary
Think inside the box with an upgrade from the usual low-brow boxed wine.  Black Box wine is a delicious alternative to a bottle at a great price tag.  It's perfect for a pool or park where glass is prohibited, plus you don't need a corkscrew!

Tabletop Cylinder Torch, $19
These gorgeous torches add ambiance and ward off mosquitoes.  These inexpensive additions to your tabletop are also refillable, making them more convenient than regular citronella candles.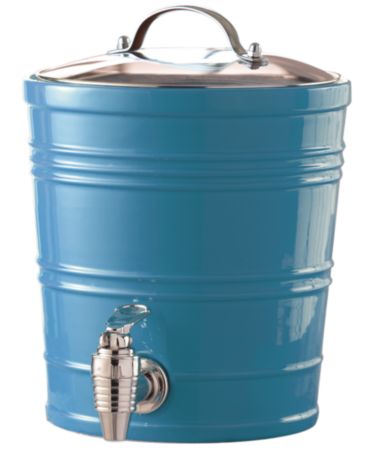 Ceramic Drink Dispenser, $39.99
Mix up your favorite summer drink and let guests serve themselves from this ceramic dispenser.  It comes in fun colors to go with any decor. 

Picnic Time Picnic Basket, $66.99
This picnic basket is cute for a summer date.  It comes equipped with wine glasses, a corkscrew, napkins and a cheese board and knife for the perfect outdoor afternoon.
Monogrammed Grill Tools Set with Storage Case, $92
The grillmaster will love having his own sleek, personalized tools.  This high-quality set comes in a convenient carrying case for storage or any guest grilling appearances!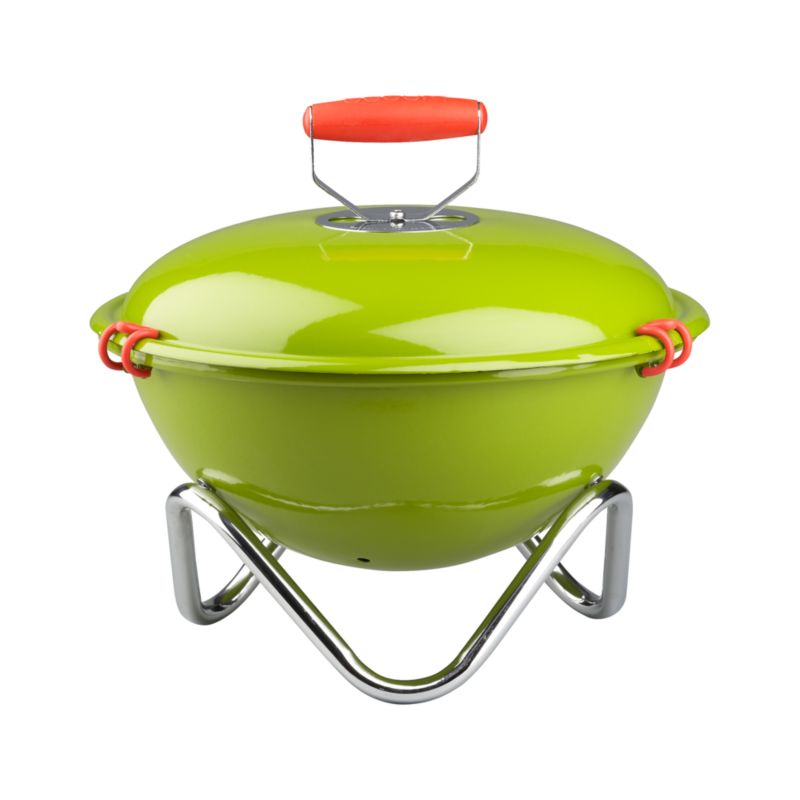 Bodum Fyrkat Green Grill, $59.95
A tabletop grill is perfect for rooftop or beach barbecues.  It's portable and compact, and totally chic in this green shade.

Personalized Riviera Green Cocktail Napkins, $52 for 100
Personalization makes everything extra special and these summery striped cocktails napkins are no exception.  These also make an amazing hostess gift!


With summer coming, its likely you'll be entertaining, hosting a cookout with friends, or just spending quality time with your family over a delicious meal.  Having guests over for dinner or throwing a party can take a lot of preparation so here's the guy who can help you…Mark Seigel from Gold Coast Gourmet! His personalized service delivers fresh meat, fish and ready-to-cook entrees and hors d'oeuvres right to your home.
Their menu features an array of prime meats and high-quality seafood available at wholesale prices.  From filet mignon to sushi-grade tuna, they have something for everyone's taste.  There is even a newly added selection of hors d'ouvres including mini quiches and bacon-wrapped scallops.  For an asian-inspired meal, try the spring rolls, dumplings and teriyaki-marinated london broil or chicken tempura.  Or, upgrade your classic American summer BBQ with their Kobe Beef burgers. Some of my favorites include the baby back ribs that are pre-cooked and marinated, and the large jumbo shrimp cocktail.
No matter what kind of event you're planning this summer or any time of year, Mark really cares about providing excellent service to his clients and will work with you to create your custom order. Gold Coast Gourmet has been in business for over 20 years and delivers to the Hamptons, Long Island, Westchester, New Jersey and Connecticut, and can ship all over the country.
For more information and full menu, contact Mark Seigel at Gold Coast Gourmet.
(516) 526-9667
Gcg108@Verizon.net
These lantern-like lights create a magical mood and are the perfect decoration for any backyard party
Illuminate your night by adding these easy-to-use lights on a terrace, balcony, or in the trees

Shop the Full Story: Summer BBQ Essentials
Nothing says Labor Day like pool parties and BBQs. But with fattening items like hot dogs and creamy side salads (think potato salad and coleslaw) on the menu—you may find yourself with a little extra pudge hanging over your bathing suit.  With a few simple changes you'll be able to enjoy the end of summer without wreaking havoc on your waistline.  These tips save big on calories and grams of fat, but sacrifice none of the flavor or fun! I've even provided one of my favorite F-Factor recipes that's sure to be a hit all summer long.  Happy BBQing!
Go Lean on the Grill: Lean meats such as chicken, fish and turkey provide less calories, saturated fat and cholesterol than hot dogs and full-fat hamburger meat.   If you can't avoid your hamburger craving, choose USDA Select or Choice grades of lean beef that have been trimmed of fat, such as ground sirloin. Another great tasty option is low-fat sausage with 3g of fat or less, from brands like Applegate Farms and Hebrew National.
Factor out: 2 full fat sausage links at 163 calories and 14g fat.
Factor in: 2 low-fat sausage links for 80 calories and 3g fat.
Rub a Dub, Dub, Just not with a Wet Rub: When grilling, try using a dry rub. Unlike a wet marinade, which is often oil based, dry rubs add a kick of flavor without the unwanted calories.
Factor out: Marinade on your meats.  One tablespoon of olive oil has 135 calories and 15g of fat, and the typical marinade uses 1 cup of oil!
Factor in: Dry rub adds flavor to meat without any extra calories or fat!
Secretly Slimmed-Down Potato Salad: Potato salad is a BBQ staple, but not always the healthiest option, with most recipes calling for at least a 1/2 cup of mayonnaise. If you swap the mayo for a 1/2 cup of Greek yogurt, you'll save big on calories and fat—and it's so delicious, they'll never know!  Another healthy addition is to keep the potato skins on—the skins contain half of the total dietary fiber of the potato and 45% of the daily value for Vitamin C! (recipe below)
Factor out: Mayonnaise adds tons of calories and fat to your potato salad recipe.  A half-cup is 785 calories and 87g of fat to your potato salad.
Factor in: ½ cup of Greek yogurt to your potato salad recipe.  Which has only 60 calories and 0g fat.
Bag the Sugary Baked Beans – No BBQ is complete with the requisite bowl of baked beans. However, while beans are known as an excellent source of protein and fiber, the baked beans you'll find at a summer soiree will likely be loaded with calories and sugar. Believe it or not, one cup of baked beans is equivalent in sugar to six Oreo cookies! Instead, make a four-bean salad combining canned chickpeas, kidney beans, black beans, string beans and a few sprays of Wish-Bone's Balsamic Breeze Vinaigrette Salad Spritzer. You'll have a healthy dish that everyone will love, that's is also good for them.
Factor out: Traditional baked beans, which can have up to 640 calories and 4g of fat in a cup.
Factor in: A four-bean salad, which will lighten up your BBQ with just 80 calories and 1g fat in a cup.
Skinny Your Skewers with Veggies! Kebabs are not only fun to make and pretty to look at, but they taste great and should be loaded with delicious veggies.  Try alternating your skewers with a lean protein such as chicken or shrimp and high fiber vegetables.  Veggies like peppers, eggplant, and purple onions add color to your meal and make it more nutritious.   Plus, the combination of fiber and protein will help to keep you full.
Factor out: A chicken skewer totals up to 230 calories and 6g fat.
Factor in: A half chicken half vegetable skewer, takes down the caloric content with 175 calories and 3g fat.
How About a Heart-Healthy Sangria: What's more festive and appealing in the hot summer months than a fresh-mixed, sparkling cold Sangria?  Unfortunately, most recipes call for honey, coloring and even straight white sugar.  If you like Sangria, try making it with sweet berries, white wine and calorie free Sprite Zero to cut the calories in half from a traditional recipe. The fresh berries taste great, and the boost of antioxidants and fiber make it the perfect heart healthy drink for summer.
Factor out: The typical sangria recipe packs in 200 calories and 1g fat per glass.
Factor in: F-Factor lightened up sangria, which has 50 calories and is fat free.
A Hot 'n Sweet Surprise: Grilling is not just for protein and veggies!  Try grilling chunks of delicious summer fruits such as slices of pineapple or halved peaches and nectarines for a delicious take on a traditional summer fruit salad for dessert. The heat from the grill will caramelize the fruit, for a naturally sweet, low calorie treat.
Factor out: Peach pie, which can break your calorie bank at 261 calories and 12g fat.
Factor in: Grilled peaches with a scoop of creamy low-fat vanilla yogurt for the perfect summer treat that is only 60 calories and 0g fat.
Famous F-Factor Potato Salad
Ingredients:
2 pounds unpeeled red potatoes, cooked and cubed (5 cups)
1/2 cup chopped celery
¼ cup finely chopped red onion
2 tablespoons sweet pickle relish, drained
2 tablespoons chopped sweet red pepper
3 hard cooked eggs, chopped
½ cup 0% Greek yogurt
2 tablespoons lemon juice
1/2 teaspoon honey
1 tablespoon Dijon mustard
Salt and pepper to taste
Directions:
1.     In bowl, combine potatoes, celery, onion, pickle relish, red pepper, and eggs.
2.     In a small bowl, combine the remaining ingredients to make the dressing and mix well to combine.
3.     Pour the dressing over potato salad and mix gently to evenly coat. Cover and chill for several hours.
Serves: 10
Nutritional Content: 158 calories, 5g fat, 1g saturated fat, 23g carbohydrates, 2g fiber, 4 g protein.
Tanya Zuckerbrot, Health & Fitness Contributing Editor

Tanya Zuckerbrot is a Manhattan-based registered dietitian and the creator of the F-Factor Diet, an innovative nutritional program she founded in 1999. The F-Factor Diet: Discover the Secret to Permanent Weight Loss (Putnum, 2006) debuted in hardcover in January 2007. This common-sense plan, used successfully by hundreds of Tanya's clients, provides tools for improved health . . . Read more
Sipping cocktails, relaxing by the pool, firing up the grill… few things mean summer more than a barbecue. We've got an eclectic roundup, from cool tools to great plates, that will create a fantastic outdoor soirée. Be prepared to entertain with all the essentials for an unforgettable time!
Rattan Globe String Lights
A summer barbecue can begin mid-day and continue all through the night! Luckily, with Pottery Barn's Rattan Globe String Lights you can always keep the party going.  These lantern-like lights create a magical mood and are the perfect decoration for any backyard party. Illuminate your night by adding these easy-to-use lights on a terrace, balcony, or in the trees.
Buy Now, Rattan Globe String Lights, $29
Chill Salad Bowl with Servers
Crate and Barrel's Chill Salad Bowl with Servers is perfect for any summer festivity. Its  bright orange and yellow colors suit the season while keeping your food fresh, even for your most fashionably late guests. This bowl combines a cooling ice-pack base with a lidded container that is ideal for storage and transport.
Buy Now, Chill Salad Bowl with Servers, $9.95
Citrus Sippers Ice Cube Tray
Keep your fruity, frozen concoction extra cool with these two-in-one ice cube straws.  Sure to be a hit with both your pint-size party guests and cocktail-sipping contingents alike, these citrus slice-shaped ice cubes also make great stirrers!  Try squeezing some lemon juice into the ice trays before sticking them in the freezer for an extra citrusy twist.
Buy Now, Citrus Sippers Ice Cube Tray, $7.99
Sewing Basket Aprons
The kids are out of school for the summer, so what better way to spend time with your tiny tot than by cooking? These lovely matching mommy-and-me aprons from Anthropolgie come in both adult and child sizes, featuring beautiful embroidery and dainty colors. Now you and your little one can cook in style.
Buy Now, Sewing Basket Apron, $38
Carter & Cunningham Candle Pot
Nothing can ruin a great outdoor gathering faster than unwanted guests:  Mosquitoes. To avoid having your invited guests itching and scratching, light up a gorgeous citronella candle. This ceramic candle will truly keep those party crashers away for up to 35 hours of burn time. A must-have for all summer barbecues.
Buy Now, Carter & Cunningham Candle Pot, $16
French Bull 8-Inch Melamine Plates
Add a playful mix of color to your barbecue with French Bull's 8-inch Melamine Plates. These are available in a number different patterns and bright colors – perfect for the summer season.
Buy Now, French Bull 8-Inch Melamine Plates, $32
Nito Rectangular Tray
Bring a tropical look to your table with this hand-woven tray designed by villagers in the Philippines. I love to use serving trays all summer long and can never have too many. A great and functional accessory!
Buy Now, Nito Rectangular Tray, $79
Fire it Up: 400 Recipes for Grilling Everything
The centerpiece for any barbecue is, of course, the food.  Step up your grilling game with this cookbook full of hundreds of mouth-watering summer recipes.
Buy Now, Fire it Up: 400 Recipes for Grilling Everything, $16.47
A Great Gift for the Host: Grill Set
Every great grill needs great tools. Bring your hosts the ultimate personalized touch for a BBQ gathering, a monogrammed tools set! It even comes with a sleek storage case.

Buy Monogrammed Grill Tools Set, $99.95, at williams-sonoma.com