Fashion's Night Out, taking place this year on September 6th, 2012, is in it's fourth year and bigger and better than ever! Heavy hitters such as celebrities, DJ's, designers, models, and the fashion glitterati will be making appearances at stores across the country. Fashion's Night Out supports and promotes shopping and retailers and also serves as a prelude kick-off party to New York Fashion Week. With over 42 pages of activities in New York alone, we sorted through all of the fun to bring you the best of the best: appearances by almost the entire Kardashian clan on both coasts, designers Oscar de la Renta, Michael Kors, and Zac Posen, and musical guests such as Alexa Chung, Haim, The Knocks, and Matchbox Twenty. Read on to find out what's going down in your city on fashion's wildest night!
NEW YORK
Alice + Olivia
431 West 14th Street, New York, NY 10014
212-840-0887
6-10pm
Guests will dance along to our favorite 80's jams and watch slumber party chick flicks while enjoying sweet treats and browsing the boutiques for the latest Fall frocks! Braid bars, manicures, charm bracelet stations and tattoo booths will be making over FNO shoppers with aura and palm readers on hand to predict our (sure to be bright) futures! And, what slumber party is complete without an extreme pillow fight with special guest stars!? Join in on the action at our new Meatpacking location.
Balenciaga
542 West 22nd Street, New York, NY 10011
212-206-0872
6-9pm
Balenciaga welcomes you to a Fashion's Night Out champagne reception to celebrate the launch of a limited-edition "Pumpkin" accessories line created by Grace Coddington and Nicolas Ghesquière. This special line of accessories features Grace Coddington's whimsical drawings of Pumpkin, her cat, modeling iconic Balenciaga looks.
Beauty & Essex
146 Essex Street, New York, NY 10002
212-614-0146
6-11pm
Meet curator and Gold Girl, aka Lauren Kaminsky, as she showcases different jewelry collections with special offers. Stylists will be on hand to show you how to embellish outfits with unique accessories. A celebratory cocktail and a special dish created by Chef Chris Santos will be served throughout the evening in the restaurant. Have any photo engraved on a complimentary item with purchase.
Bergdorf Goodman
754 Fifth Avenue, New York, NY 10019
212-872-8957
Starting at 3:00 pm: Special guest appearances by beauty experts and makeup artists including Aerin Lauder, Francis Kurkdjian, Colette Malouf and Miss Pop nail bar, Brows by Sonja, lashes by Taylor and more. With DJ Johnny Dynell.
6-9pm
BOOK LAUNCH PARTY. Book signing with author Sara James Mnookin and designers to celebrate the new book "Scatter My Ashes at Bergdorf Goodman" (Harper Design.) With special guests Edward Bess, Halston Heritage, Lela Rose, Michael Bastian, Naeem Khan, Rachel Zoe, Roberto Faraone Mennella & Amedeo Scognamiglio, Thakoon Panichgul, Robert Verdi and more. Music by Andrew Andrew.
6-9pm
PHOTOS ON 5F. Put on your party hat! BG and Tumblr invite you to capture your favorite FNO moments with Tumblr photographers and Bosco photo booths on 5F. Photos will stream on Tumblr and designers will be on hand to help style guests and share images with their own social media followers. Our very own 5th/58th astrologers Amy Zerner and Monte Farber will also be on hand, reading tarot cards and sharing their special brand of celestial wisdom.
6-11pm
HAPPY BIRTHDAY BERGDORF. One city, one store, one experience. Since 1901. Join us at Fashion's Night Out for a very special birthday party throughout the store to kick off a season of celebrations commemorating Bergdorf Goodman's 111th Anniversary. Featuring the launch of the new book "Scatter My Ashes at Bergdorf Goodman" (Harper Design), and an exclusive collection created especially for the anniversary by more than 100 designers. DJ Lady Bunny.
Bloomingdale's
1000 Third Avenue, New York, NY 10022
212-705-2000
6-8pm
Shop the latest collection from Rebecca Minkoff and have your new purchase personalized with monogramming or a custom painted design by artist, DIY expert, and blogger Nicole Cohen of Sketch 42.
7-8pm
Meet philanthropist, animal activist, author, and accessories designer Cornelia Guest and shop her newest collection of animal-friendly, oh-so-stylish handbags.
6:30-9pm
Shop the fall collection from Free People and have your new Boheme look studded on-site, including Free People purchases as well as your new Fashion's Night Out t-shirts and Fashion's Night Out tote bags. Plus, the first 25 guests to have an item studded will receive an iPhone cover.* *One per customer, while supplies last.
6:30-7:30pm
Join Heather Thomson, Founder of Yummie Tummie and newest cast member of "The Real Housewives of New York," for a picture on the red carpet!
6:30-7:30pm
Multi-platinum superstars Matchbox Twenty will be here to celebrate the September 4th release of their highly anticipated new studio album NORTH and their cover of the Bloomingdale's Best of Men's book.
7-9pm
Meet and Mingle with The Twilight Saga actor Kellan Lutz for Charisma.
6-9pm
Challenge ping pong pros from SPiN to a ping pong match! The winner will receive a gift from Fred Perry.
C.Wonder
72 Spring Street, New York, NY 10012
212-219-3500
6-9pm
C. Wonder representatives will be passing out different colored C. Wonder balloons throughout Soho. Bring your C. Wonder balloon back to the Soho store and find out what prize you win based on your color! C. Wonder will also be teaming up with Daily Candy for FNO. Exclusive Daily Candy Editors will be at the Soho store. Music will be provided by our in house D.J, and we will be serving sweet treats and lemonade.
Calvin Klein Collection
654 Madison Avenue, New York, NY 10021
212-292-9000
6-8pm
Join Calvin Klein Collection co-hosts Francisco Costa + Italo Zucchelli for a special evening with Vogue's Virginia Smith at the brand's flagship store. The night's special guests include eight-time NBA All-Star, Dwyane Wade, who will be signing his memoir, A Father First: How My Life Became Bigger Than Basketball, as well as photographer, blogger, and model Hanneli Mustaparta, who will capture the event for Calvin Klein's Tumblr®, as guests enjoy music, refreshments, shopping + style tips.
DKNY
420 West Broadway, New York, NY 10012
646-613-1100
6-10pm
Join hosts Lauren Bush Lauren and supermodel Karlie Kloss for a special shopping event benefiting the FEED Foundation. Featuring the DKNY x FEED capsule collection and the launch of Karlie's Kookies, baked in partnership with Kloss and Momofuku Milk Bar, and served by supermodels Jordan Dunn and Toni Garrn. Proceeds from the cookies and percentage of event sales will benefit the FEED Foundation.
DVF
874 Washington Street, New York, NY 10014
646-486-4800
6-11pm
Get Ready to Rendez-vous at DVF! Hosted by Girls™ Allison Williams and Vogue™'s Meredith Melling Burke, our studio will be transformed into the ultimate space to get ready for your next chance encounter. Receive styling advice from a Vogue Editor and makeup touch ups from MAC artists, ask a fortune teller for a glimpse into the future, and enjoy cocktails, desserts and special guest DJ Solange Knowles.
Exhale
Hotel Gansevoort
18 Ninth Avenue, New York, NY 10014
212-660-6733
6-10pm
Take a break from all the heavy shopping bag lifting at Exhale's Gansevoort location. They will be offering complimentary mini massages, 25% off future spa appointments, 20% off at the boutique, and special offerings on core fusion and yoga class packages.
INTERMIX
812 Washington Street, New York, NY 10014
646-480-5762
6:30-9pm
Intermix invites you to toast FNO & Fall 2012. The Knocks will spin of-the-moment tunes while you fall in love with must-know designers, exclusive product and covetable pieces. Sip celebratory cocktails as Benefit cosmetics treats you to a pop of color.
J.Mendel
723 Madison Avenue, New York, NY 10065
212-832-5830
J. Mendel hosts "Ballet Beautiful" book signing party at Madison Avenue Boutique. Ballet Beautiful Dancers will perform in the J. Mendel windows wearing J. Mendel ballet-inspired designs. First ten guests to purchase a book will receive an original signed, framed sketch by Gilles Mendel.
Jeffrey New York
449 West 14th Street, New York, NY 10014
212-206-1272
Jeffrey New York is excited for yet another fabulous Fashion's Night Out including celebrity appearances by Jessica Chastain and Dan Stevens from new Broadway musical The Heiress! Listen to tunes spun by guest designer DJ Monique Péan while sipping healthy BluePrint Juices. Sally Hershberger Downtown stylists will provide the latest hair trend – complimentary temporary extensions in pops of color.
L.K. Bennett
10 Columbus Circle, Manhattan, NY 10019
212-823-6300
6-11pm
L.K.Bennett takes to the streets on FNO with The London NYC and restaurateur Gordon Ramsay in a double -decker bus! The bus will transport shoppers to and from the hotel property and L.K.Bennett's Time Warner Center location every half hour starting at 6 pm. Guests will sip champagne, shop with renowned stylist Amy Acton and enter to win an overnight stay in a London Suite at The London NYC, a three-course dinner for two at Maze, and a head-to-toe L.K.Bennett ensemble.
Lacoste
541 Broadway, New York, NY 10012
212-219-9203
6-11pm
Join us as we celebrate croc-clad fashion icon Mickey Boardman's 20th anniversary at PAPER Magazine. Lacoste will ring in the special night for Mr. Mickey with a delicious custom confection by the "Cake Boss" that you have to see to believe. Mr. Mickey will be on-hand to style guests in his favorite polos while cocktails and light bites are served. Guests can capture the evening's memories by taking supped-up snapshots in our Superbooth as DJ Pierce Jackson spins your favorite tunes.
Lord & Taylor
424 Fifth Avenue, New York, NY 10018
212-391-3300
6-8pm
Stop by and meet TV Personality/Entrepreneur, Jill Zarin. Preview her newly launched jewelry collection and receive an autographed photograph.
6-9:30pm
Celebrate the 10th Anniversary of Project Runway and meet current and past designers.
7-8pm
Stop by for your chance to meet BCBG Chairman & CEO Max Azria and BCBG Chief Creative Director Lubov Azria as you capture your favorite FNO memories with the BCBG Photo Experience.
6-7pm
Stop by for your chance to meet Olympic Gold Medalist and NY Times Best Selling Author Kristi Yamaguchi. Kristi will be signing complimentary Tsuya tote bags.
7-9pm
Stop by for your chance to meet style-savvy entrepreneur and fragrance designer, Kim Kardashian, with your qualifying* True Reflection fragrance purchase. *Qualifying purchase includes $123 True Reflection gift set. Due to time limitations it may not be possible for each customer to meet our special guest.
7:30-9:30pm
Stop by and meet New York City's bravest from the 2013 New York City Firefighter's Calendar and receive a complimentary signed calendar* with any purchase.
7-11pm
Stop by the Manoukian boutique to have your photo taken in front of big city backdrops. Meet 9to5chic blogger, Anh and receive a complimentary Manoukian bracelet.
6-11pm
Stop by and receive a personalized fashion illustration from the students of the Fashion Institute of Technology, complimentary with any purchase.
Macy's
151 West 34th Street, New York, NY 10001
212-695-4400
6-7pm
Vogue's Senior Accessories Editor, Rickie De Sole will show you what the ultimate shoe closet holds.
6-7:30pm
Join Bethenny Frankel for a "Skinnygirl Social" as she hosts a Skinnygirl Smoothers n' Shapers fashion presentation. Be one of the first customers to arrive at the event and receive an autographed headshot from Bethenny. And, with any Skinnygirl Smoothers n' Shapers purchase customers will receive a special gift.
7-8:30pm
Party with Benefit Cosmetics and television sweetheart, Emily Maynard, for a "Beauty Best…or Bust" Event. Get your photo taken with Emily with your qualifying $50 Benefit Cosmetics purchase that includes They're Real! beyond mascara.
7:30-8:30pm
Celebrate the opening of The World's Largest Shoe Floor at a fashion trivia quiz hosted by fashion designer and TV personality Michael Kors.
6:30-7:30pm
Meet actress Britt Robertson and create your favorite Tommy Girl look for a chance to win a Macy's shopping spree!
6-8:30pm
Stop by our Men's Lounge hosted by "Keeping Up with the Kardashians" star, Scott Disick. Enjoy cigar rolling, refreshments, and more. Plus, get your photo taken with Scott when you make a qualifiying purchase! While you're here, meet the New York Jets Flight Crew Cheerleaders.
6-7:30pm
Join Macy's Culinary Council chef, Johnny Iuzzini and Debi Mazar as they share their tips for entertaining in a New York space.
7-8:30pm
Get a fresh new look for the Fall! Macy's Style Expert, Clinton Kelly will be here to answer your style questions and help you prepare for a stylish new season! With any $50 women's apparel purchase on the day of the event, receive a special gift.
Matt Bernson
20 Harrison Street, New York, NY 10013
212-941-7634
6-11pm
Make your way to Matt Bernson's new Tribeca store for a night of swanky services hosted by Redbook Magazine's Fashion Editor, Cris Desposito. Meet the designer & score insider tips on the hottest trends, enjoy endless cocktails by Given Liqueur, Signature NailEZEE Manicures, Joico Braid Bar & more. Be first to check out in-store exclusives, swoop up a designer-curated vintage shades, & catch a sneak peek of what's to come from MB. Get there early – the first 100 will grab a very special swag bag.
Maybelline New York
14th Street & 9th Avenue, New York, NY 10017
6-11pm
For Fashion's Night Out the Meatpacking District is the place to be as Maybelline New York hosts their official Color Studio Lounge. Enjoy makeovers by Maybelline's top makeup artists, walk the catwalk like a pro, and step into their custom photo studio to show off your new looks and much more! Look for Maybelline New York's Mobile Color Studio throughout New York City offering beauty on-the-go. Enjoy daytime touch-ups and mini-manicures featuring the season's hottest new colors.
Michael Kors
667 Madison Avenue, New York, NY 10065
212-980-1550
6-11pm
Come watch your favorite YouTube stars compete in a Karaoke contest judged by Michael Kors and guest celebrity judges. Have a chance to shop exclusive product as well as have your portrait taken by famed photographer Victor Demarchellier.
Missoni
1009 Madison Avenue, New York, NY 10075
212- 517-9339
6-9pm
Guests will have the opportunity to meet Margherita Missoni and to purchase special rings supporting Edodé Onlus, an Italian charity working in Mali to provide safe drinking water to villages in Africa. These colorful rings come individually wrapped in Missoni raschel bags. Drinks and light refreshments will be served.
Molton Brown
128 Spring Street, New York, NY 10012
212-965-1740
6-10pm
In honor of our new targeted haircare products and Fashion Week, we're throwing a suitably stylish event at our Soho store. We'll be giving away fascinators (the popular British hair accessory) to help glam up your tresses while you smile and strike a pose for the camera in our digital photo booth from Boothomatic. Plus we'll also have herb-infused mocktails from the Teaologist and mini colorful treats courtesy of Georgetown Cupcakes.
Moschino
401 West 14th Street, New York, NY 10014
212-243-8600
6-11pm
This year's Goldilocks and the Three Bears themed Fashion's Night Out event will feature a DJ set from fashion icon Alexa Chung. Join us in store for themed surprises that will be "just right". Refreshments will be served on this "beary" exciting and fun filled evening. Limited edition Moschino iPhone cases, in the form of the iconic Moschino bear, will be available in store for purchase.
Opening Ceremony at The Ace Hotel
1190-1192 Broadway, New York, NY 10001
212-334-7240
6-11pm
Opening Ceremony is returning to the ACE Hotel for Fashion's Night Out this year launching Korea as its country of focus.
KARAOKE. The hotel lobby will be converted into a noraebang, or a "private" karaoke room, where guests can participate in the favorite Korean pastime and sing among special hosts.
The hotel lobby will be converted into a noraebang, or a "private" karaoke room, where guests can make a donation to participate in the favorite Korean pastime and sing among special hosts. All donations will be donated to Broome Street Academy.
BOOK SIGNING. With its 10-year retrospective book launching only a few days before, Opening Ceremony will be hosting a live signing of the book by Carol Lim and Humberto Leon, and special contributors, and will display in the Ace Hotel gallery space beautiful reprints and pieces by artists featured in the book. These artworks will be sold during FNO, and all proceeds will be donated to Broome Street Academy.
OpenSky
Fashion's Night IN: If you can't make it out to the festivities but want to get in on all the FNO action, follow your favorite fashion insiders on OpenSky, the e-commerce sensation. Shop for stylish clothing and accessories curated from their top fashion gurus such as Molly Sims, Cynthia Rowley and yours truly! OpenSky has dedicated an entire collection in honor of Fashion's Night Out. They are also offering an OpenSky exclusive FNO tote…items are limited and sure to fly! Get your shop on here.
Piperlime Store Opening
121 Wooster Street, New York, NY 11201
212-555-5555
6-11pm
Piperlime celebrates FNO with the launch of its first store at 121 Wooster Street. Meet Rachel Zoe-Piperlime's Fashion Authority, Olivia Palermo-Piperlime's Guest Editor and your new best trends for fall. This is your chance to shop your heart out in popular sections like Girl on a Budget, Celebrity Editor Picks and Obsessions. Guests will enjoy cocktails, music by Rev Run + DJ Ruckus and a treat with purchase (while supplies last).
Prada
724 Fifth Avenue, New York, NY 10019
212-664-0010
6-10pm
Prada Fifth Avenue invites you to step into the world of Hamish Bowles, Vogue's International Editor at Large. A percentage of sales from FNO will benefit New Yorkers For Children.
Rebecca Taylor
980 Madison Avenue Space C, New York, NY 10075
646-560-251
8-10pm
We are having Lucky editor Lynette Pone style 15-20 girls in fall looks, in categories such as "Work," "Weekend," and "Night on the Town." We will then post the images of the girls to Facebook for fans to vote on which look they like the best for a few days after the big event– the winner will win her full look! Photos of the event will also be posted to Facebook, Twitter, Pinterest and Instagram, from both Rebecca Taylor and Lucky Mag.
Saks Fifth Avenue
611 Fifth Avenue, New York, NY 10022
212-753-4000
6-8pm
Start off your FNO right with freshly trimmed bangs courtesy of designer Erin Fetherston. Meet Erin, shop her fall collection and get your bangs trimmed. Erin will be joined by the legendary Edward Tricomi of Warren Tricomi salons.
6-9pm
Celebrate the launch of his new fragrance, Essential Luxuries with Mr. Oscar de la Renta at 6. Enjoy a private consultation with Creative Director, Tom Pecheux of Estee Lauder from 6 to 8. Meet husband and wife team, Max and Lubov Azria from 8 to 8:45. Play ping pong with Spin Galactic and Men's designers Bespoken and Number Lab. Also, come in and meet New York Knicks star, Amar'e Stoudemire from 8 to 9!
6-10pm
Get styled with custom print Suno nail designs from Minx Nails with designers, Max and Erin. Make your Mark with Kimberly Ovitz and Rihanna's tattoo artist, Josh Lord of East Side Ink to collaborate on custom designs to be painted on guests that night. Get a henna tattoo and meet Sachin and Babi Ahluwalia.
6-10pm
Enjoy various activities provided by Crayola. Watch artist, Diem Chau carve into jumbo sized crayons and artist, Herb Williams make sculptors. Partake in our airbrush graffiti wall and life-size paint-by-number.
6:30-8:30pm
Join Rebecca Minkoff for a Girls' Night Out. From a "ponytail bar" and "smokey eye station" to a "make your own arm party" and nail art inspired by her fall handbag collection, guests can get decked out and dabble in DIY before they hit the town.
7-8pm
Meet Darren Criss of Glee and Special Guests for signed copy of the September Issue of Vogue.
6-8pm
Personal Appearance by Rachel Roy, Gabriele Franzen, Megan Papay and Cristina Paloma-Nelson of Freda Salvador and Edgardo Osorio. Meet Elle.com's celebrity astrologers, The Astro Twins, who will tell you which shoes are right for you based on your birthday. Superimpose yourself into the Rayban ad campaign and have fun with our Social Pix Station.
Scoop NYC
875 Washington Street
212-691-1905
6-9pm
Join Scoop NYC and AG Adriano Goldschmied for a block party with special appearances by Zac Posen, Sonia Evers of Runway Hippie, and the bloggers of Born and Bread. Musical performances by St Lucia and DJ Mick Boogie, featuring Beyond Vintage, Fashion Etc, Yosi Samra, and Beautybar.com.
Sephora
597 Fifth Avenue, New York, NY 10017
212- 980-6538
6-9pm
Get your Fashion Week fix at Sephora! Starting at 7:30PM, design duo Georgina Chapman and Keren Craig will be in store to introduce you to their new fragrance, MARCHESA PARFUM D'EXTASE.  See actual Marchesa dresses previously worn by celebrities, have your picture taken on the red carpet in a life-size Marchesa dress cutout, experience Marchesa Parfum d'Extase at the fragrance bar, and enjoy refreshments, a live DJ set, and more.
Sigerson Morrison
28 Prince Street, New York, NY 10012
212-219-3893
6-9pm
Hey kids, it's finally time to retire that fake ID: Sigerson Morrison is turning 21! And what better way to celebrate than to throw the biggest, chicest birthday celebration that FNO has ever seen. It'll be the same kind of debauchery you remember from your heydays, but with a haute twist and much better accessories; think lots and lots and lots of champers. Of course, Belle will be there to keep things fresh, and to make sure the DJ keeps the classic 90s jams bumping all night!
Target
441 West 14th Street, New York, NY 10014
212-206-8280
6-10pm
Join Target as we celebrate our fall installment of "The Shops at Target," featuring New York City's "Odin" and "Kirna Zabete," Boston's "Patch NYC," and San Francisco's "The Curiosity Shoppe." The one night only, pop-up shop will give New Yorkers the chance to shop the collections before they launch at Target stores nationwide and on Target.com. Quantities limited to each guest.
Tiffany & Co.
106 Wooster Street, New York, NY 10012
212-755-8000
6-11pm
The world's most dazzling diamonds beckon you downtown on Fashion's Night Out to visit Tiffany's new store in SoHo, where NYC's first great jeweler is celebrating 175 years of legendary style. There'll be art, fashion, tunes and treats in an atmosphere sparkling with the beauty and glamour of Tiffany jewels.
Topshop
478 Broadway, New York, NY 10013
212-966-9555
6-10pm
Get ready for Fashion Fanfare! Come and help us celebrate Vogue Fashion's Night Out, TOPSHOP style this Thursday September 6th, 6-10pm. With our favorite band of the moment, Haim, performing live in our New York store window, plus a fashion raffle that could see you winning big – it's guaranteed to be a night to be a night to remember. Don't miss the Vogue team's personal style edit, and if all that wasn't enough, we've also got makeovers, nail art and gifts galore.
Valentino
746 Madison Avenue, New York, NY 10065
212-772-6969
6-9pm
Valentino will be celebrating Fashion's Night Out with hosts: Genevieve Jones, Nicky Hilton, Olivia Palermo, and Sofia Sanchez Barrenechea. Music by: Sean and Anthony Souza.
Vince Camuto
532 Broadway, New York, NY 10012
646-532-2684
6-11pm
Join us at our SoHo store location to shop our new fall collection and meet founder Vince Camuto and creative director Louise Camuto along with the duo behind the wildly popular blog Honestly… WTF! Honestly… WTF founders Erica and Lauren will host a DIY crafts table where shoppers can decorate a Fashion's Night Out tote printed with your choice of an exclusive Vince Camuto or VC Signature sketch of our hottest fall designs! As you decorate your bag, chat with Lauren and Erica who will swap style tips and their favorite fall pieces from Vince Camuto.
Whether you're into yoga, running, dancing or playing a sport, getting your sweat on doesn't mean you can't still be stylish! Ditch the grungy old t-shirt and oversized shorts and update your gym wardrobe with these chic picks.
Electric Yoga Bolt Bag, $58
Tote all of your workout essentials in this lightweight, waterproof interior bag. Neon is one of this season's hottest trends.
Nicole Ari Parker Save Your Do™ Gymwrap, $24.95-$29.95
This fantastic head band innovation maintains your blowout in even the sweatiest of workouts. 10% of proceeds from the Save Your Do go to the Sophie's Choice Foundation to raise awareness for spina bifida.
alo Sport Mod Workout Jacket, $80
Alo Sport makes the best eco-chic activewear that fits and feels amazing. This fun bright blue jacket is functional and chic. Celeb fans include Jessica Alba and Ellen Pompeo.
Women's adidas by Stella McCartney Axyridis Shoes, $150
Designer athleticwear is certainly a way to stay chic while you sweat. We love these blue Stella McCartney for adidas sneakers.
Ideology Sleeveless Printed Tank Top & Skinny Cropped Active Pants, $38-$48
The Macy's Ideology line has tons of great workout wear that is cute enough to wear outside the gym or studio, too! Cheryl Burke of Dancing with the Stars is a fan.
Custom Yoga Mat, $40
Anything personalized is always a great way to make your style standout. This also makes a great gift for the yogi in your life!
Admit it…have you ever purchased a product based on its packaging? No need to raise your hand on this one. Brands KNOW how quick we are to judge a book by its cover, which is why they spend hundreds of thousands of dollars on designing beautiful packaging just to get us to spend our pretty pennies. Guess what though? It usually works! I've always been a sucker for gorgeous packaging when it comes to cosmetics. Check out some of my favorites of this season.
Because of my allergies, I'm not a girl who can wear a ton of fragrances, but the first time I saw the Jimmy Choo Fragrance Collection for Women ($70, on macys.com), I just had to have it. The bottle looks like a piece of art, right? Considering this is Jimmy's first parfum, it's safe to say he knocked it out of the park. This fragrance combines citrusy-notes with sweet notes, and the end result is a luxurious fragrance for beauties who love to smell heavenly. Oh, and yes…the bottle is an absolute masterpiece.
-Brittany Thomas for ClumpsOfMascara.com 
Rachel Roy is a dynamic fashion designer whose pieces have been seen on every leading lady from Michelle Obama, Diane Sawyer, Jennifer Garner, Penelope Cruz and Kate Hudson. I met Rachel at a recent event and was blown away by her support of entrepreneurial women and charity. The gorgeous native Californian, whose personal beauty shines through every one of her designs has worked in the fashion industry since her teenage years as a sales girl– which she calls her early market research! Before designing her own line, she styled magazine shoots, music videos and was creative director for Rocawear. Since the launch of her Rachel Roy line in Spring 2005, Rachel has had a whirlwind of success including being inducted into the CFDA, appearing on Oprah, and launching RACHEL Rachel Roy, a diffusion line sold exclusively at Macy's. Rachel shared with me what she has been up to lately and offered some of her best tips and products picks!
MM: You have a very interesting background. How has that influenced you as a designer?
RR: I've always loved fashion and taking risks in both what I wear and what I design as this has been a guiding principle for me. I've never let fear paralyze me but rather let my passion drive me. One of my goals is to help other women realize this as well.
MM: We are so excited about your new collection, what was your inspiration for FW 2012?
RR: My fall 2012 collection is inspired by the documentary Women in the Dirt which highlights the works of seven award- winning women who have made their mark in the field of landscape architecture and are changing our world. From this, the idea of modern landscape architecture and the influence of nature was really interesting to me– balancing the clean lines of landscapes and natural colors and interesting material combinations and details.
MM: What are 3 items you always have on hand during fashion week?
RR: Yoga mat- I practice yoga two to three times a week. The meditation helps me stay centered. Music- it's one of the quickest routes to dream and always inspires me. Candles- the comforting and continuous glow of a Jo Malone candle while I work is a must.
MM: How do you unwind after such a whirlwind week?
RR: Take a breath, thank my staff and then off for some R & R. First I sleep and then I have a proper meal since I have been living off coffee and sugar for the past two weeks preparing for the show. I'll spend some quality time with my daughters, visit the Caudalie Vinotherapie Spa at the Plaza Hotel for one of my favorite facial treatments, and lounge at home and watch re-runs of The Office or Modern Family. Then it's right back into designing the next collection!
Style.Power.Rachel Roy.Amar'e Stoudemire.
Shiny jerseys and over-sized basketball shorts are the farthest thing from fashion for court-side divas. But we have good news: representing your favorite basketball team just got a lot more interesting if you are a fashion lover and fan. Fashion designer Rachel Roy and basketball player Amar'e Stoudemire have teamed up to create a pro look for sports-loving fashionistas. The line RACHEL features these athletic-inspired pieces from a mixed media leather & canvas Letterman jacket to a Chicago Bulls "Rocker" tee and more. The pleasantly simple jersey tees along with the heathered sweatshirts are embellished with team logos. With Amar'e's head in the game and Rachel's style, this dynamic duo perfectly bridges the look of chic masculine-feminine. These pieces are not only great for looking cool court-side but they are perfect to wear to dinner or a party.  The limited edition line is comfortable and casual–I am loving the leather shorts and hooded vest. Prices range from $49.00 to $229.00 with various sizes from extra small to extra large. You can order online from the Rachel Roy on-line store or at Macy's.
Watch this fun video where Rachel interviews Amar'e and talks about their interesting collaboration:
Photo Credit: Rachel Roy
I LOVE jewelry and am always looking for a great new find.  This summer, I'm lusting after pieces that aren't fussy or overly fancy, and with many options under $75, it's easy to accessorize.  Summer is the time to be carefree, so simple summer style is about wearing fabulous pieces that you can pair with everything in your wardrobe.

Lulu Frost Navette Tassel Necklace
, $325
I'm a big fan of long necklaces.  This antique brass one is easy to wear for summer. I love that the oversized swarovski crystal flower pendant has a glass pearl center. It looks great with a solid maxi dress and sandals.
Citrine by the Stones Provocateur Earrings, $160
This brand has a ton of fun jewelery and these earrings are total outfit makers.  Wear them during the day with jean shorts and a white tank and your hair pulled up in a messy ponytail or at night with a dress and sleek pulled back hair.


Alexis Bittar Crystal Encrusted Gold Pool Ring
, $255
Alexis Bitar's baubles are true works of art and this ring is no exception.  An oversized cocktail ring is the perfect conversation starter at a chic summer nighttime event.

Sadee Says 3-finger Serpent Ring, $104
Snake jewelry is a favorite of mine and very vintage-inspired.  Wear this multi-finger ring and be ahead of the fashion curve this summer.

Kelly Gerber Grey Croco Leather Cuff, $375
Chunky bracelets are on trend this season.  This one is casual enough for everyday wear.  Crocodile adds a cool nod to safari style which is always hot for summer.
Under $75: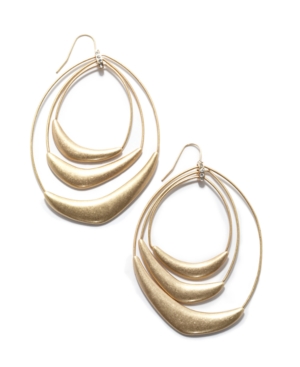 Rachel Rachel Roy Earrings, Three Tier Drop Hoop
, $46
Hoop earrings are every girl's summer staple.  This is an interesting take on the basic hoop earring.  I would keep them on all summer!
Calypso for Target Necklace with Rosary Beads, $39.99
Calypso is known for summery fashion, and their new line for Target does not disappoint.  This necklace looks great with everything.  It's an accessory you'll wear all summer long.
Urban Metal Feather Cuff Bracelet, $20
Nothing says summer like nature-inspired jewelry.  Urban Outfitters has lots of boho chic accessories like this leaf bracelet which comes in both silver and gold.  I always stack my bracelets so this would make a great addition for a layered look.

Vanessa Mooney Wrap Bracelet, $64
Vanessa Mooney is a fave of celebrities like Katie Holmes and Vanessa Hudgens.  All summer jewelry should be as easy to wear with a tank and jeans as this wrap bracelet.  It comes in tons of great colors, too!
Skinny by Jessica Elliot Ring, $45
Skinny by Jessica Elliot is another celeb favorite worn by Rihanna, Pink and many others.  I'm obsessed with these two finger rings that come in lots of fantastic summer brights.  They look great with a tan and a manicure!
Ok, I admit it, I'm addicted to reality TV! Whether it's Kim, Kourtney, Khloe, or even Mason, I always want to catch up with the Kardashian clan. When I found out that Kim Kardashian would enter my actual reality in New York City, I just had to catch a glimpse of the starlet.
So Wednesday night, Colleen Hagerty and I entered Macy's in Herald Square. She was the perfect partner in crime, as we both are usually glued to the tube for reality television. On the first floor, just beyond the jewelry section, a small space was roped off. Now, I have to explain—getting into this roped- off area was more difficult than trying to get into the VIP section at a club. Security blocked every possible entrance. Even after being on the list, we had to be confirmed by three different people before we could be placed in the press section.
As each minute passed by, the excitement and intensity grew. It seemed like every Macy's employee was just as eager to be in Kim Kardashian's presence. The women working in the perfume section were in the perfect position to catch all the action as they stood on their tippy-toes behind the counters. We, however, were fortunate enough to be placed front-row right next to the Kim and Kourtney Take New York crew. (Look for us in January when the new season premieres on E!)
When Kim finally appeared from behind the backdrop, she gleefully spoke about the launch of her new fragrance. After two years, she explained, this launch was a dream come true. The perfume combines all of her favorite scents in one royal purple bottle.  After thanking her fans, she then took photos with the first 300 customers to buy her four-piece fragrance set.
As we began to gather our things and leave, it was obvious that this Kardashian attracted fans both young and old. From a teenager to an older man, each was more than willing (and ecstatic) to wait in line for hours to meet the reality star for mere seconds—now that's dedication! I have to say, this celeb-sighting not only made my day but my whole month! Like so many other fans, I will anxiously be awaiting to keep up with Kim and Kourtney when the new season premieres!
Stay tuned for our video of Kim Kardashian's fragrance debut at Macy's! —Lindsay Hahn