New York Fashion Week is now behind us and the verdict is in: whether you're into the 60's, 90's, or any era in between, there is an inspiration point for you in many of Spring 2013's collections. From sporty shows like rag & bone and Milly to cheeky collections nodding to Helmut Newton, Spring 2013 is filled with some fun trends.
 Fashion's two biggest influences for Spring 2013 were the 60's and the 90's, which carried over into the relaxed and whimsical hair on the runway. From the ubiquitous braid to sleek, deep side parts, Spring 2013 had something for every length, color, and texture.
Fashion week's bevy of beautiful models had their natural beauty highlighted for Spring 2013. Eyes, lids, brows, and lips were the focus: soft, feature-enhancing makeup and bold, modern looks both reigned on the runways. From iconic images of the past to scenes in nature, makeup artists drew inspiration from a variety of muses and really mixed the old with the new. We can't wait to try out these fresh trends next spring!
There are so many places to be and things to see during New York Fashion Week that it's nearly impossible to stay refreshed at all times. That's why Melissa and the gang at PageDaily rely on some can't-live-without-products to get us through the wild week.
MiLi Charger, $32, available on OpenSky
You can get your very own on OpenSky the next time you check out Melissa's picks! This little wonder device is compatible for nearly all devices, including Blackberry and iPhone. The cute Power Candy charger fits into any bag and will give you up to 2 additional hours of talk time. Perfect for those moments when you can't find an outlet.


Band-Aid Friction Block, $5, available at drugstores
Nothing is worse than limping from show to show in those cab-to-curb heels that were too fabulous to not wear. Instead of sacrificing fashion, tuck a Band Aid Friction Block into your bag. Rub the clear wax onto your foot before you put it on and it will keep your tootsies blister-free all day.


Boscia Blotting Sheets, $10 for 100, at Boscia or Sephora
We found these life savers via the girls at the Birchbox Sample Stop and subway rides have never been the same since. The Green Tea Blotting Linens are part of the preservative-free line, perfect for sensitive skin. The real power behind these blotting linens lies in their ability to take off sweat and shine without taking off makeup – a truly modern feat!


Marcona Almonds, $2, available at Starbucks
 Nutritionists everywhere laud the healthy habit of picking up almonds as a healthy snack. To make sure you're pre-portioned, try our favorites at Starbucks.  Dry roasted for maximum flavor and unsalted for bloating control, this little pop of protein gets us through those 4pm and on shows.


Dr. Scholl's Foot Cushions, about $24 for a pack of 4, available at drugstores
No one ever said walking in high heels was easy, but with these Dr. Scholl's foot pads you can make the process a little less painless. They last up to 6 months and require no trimming to fit inside even your most precarious shoe. The balls of your feet will literally thank you.


Mini Sebastian Shaper Zero Gravity Hairspray, $9.99 available on Amazon
Hairspray is an every day essential and its importance only becomes greater during fashion week. Keep this little mini sprayer in your bag to tame flyaways, stop runs in your opaque black tights, and hold that pony together tightly as you run from Lincoln Center to MILK and back. The formula is weightless and brushable, which is perfect for backseat hair styling.


Mini Oscar Blandi Dry Shampoo, $11, available at Beauty.com
 In addition to keeping your tresses tamed, you'll want to keep the oil at bay, too. Again, thanks to our friends at the Birchbox Sample Stop, we tried the Oscar Blandi Dry Shampoo and are in love! The Ojon stylist on site at the Birchbox Sample Stop, Cynthia Alvarez, gave us a great tip for using dry shampoo: try putting it on at night to soak up oils instead of during the day. Pull your hair back in two chic twists and go!


Colgate wisps, $2.25 for 16 brushes, available at drugstores
You never know what you're going to be eating for lunch during fashion week – usually it's whatever you can forage on 10th avenue before jumping into another cab. Take precaution against unwanted onions, coffee, and the like with Colgate's disposable wisp toothbrushes, which you use and toss.
As much as we love checking out all of the new collections designers roll out, when you have backstage access it's all about the beauty! The world's best hair stylists and sought after make-up artists create the fabulous looks we see on the runway that set the trends for real life. Here are our picks of the coolest hair and make-up looks during New York Fashion Week.
During Fashion Week it's easy to get side-tracked with celeb sightings, crazy street style and after parties! The shows and presentations are a big production and what they are really all about is forecasting next season's trends! We saw a ton of chic looks and put together our list of the biggest trends for Fall Winter 2012. From feminine menswear and fabulous furs, to sophisticated cut outs and sensual pleats, we can't wait for another fall to arrive!
Spring is right around the corner, Mercedes-Benz Fashion Week is here…and a girl needs functional fashion during one of the chicest times of the year. Lucky for you and your attached-to-your-ears-and-fingers phone, top designers like Michael Kors, Kate Spade, Juicy Couture and more have come out with super-cute smartphone clutches!
Nothing says you're a saucy stylista like toting the Michael Kors iPhone Wristlet in Red ($79.95). This red patent-leather clutch wallet features pocket space for several IDs and credit cards, along with an opening for all ports (making it easy to charge while inside the clutch). Plus, it's compatible with iPhone® 3G, iPhone® 3GS and iPhone® 4!
Fashion Week is in full swing–there are so many fab events and shows to attend! One of the best so far this season was the Kohl's Rock and Republic show. I loved so many of the edgy chic styles and was able to catch up with some of the hottest celebs there (Ashlee Simpson told me that she uses
La Mer moisturizer
every day…no wonder her skin looks so luminous)! Spotted in the front row was Molly Sims sporting the cutest baby bump, hottie Chace Crawford, Ed Westwick, Penn Badgley, Ashlee Simpson, Tinsley Mortimer and Kelly Bensimon among others. My favorite looks included a perfect short and fitted LBD, an off the shoulder striped micro mini dress styled with layered necklaces and stacked bangles, the cutest denim shorts paired with wearable tees, cropped jeans in colors and denim and some great downtown looks for men. I also really loved the ruched off the shoulder dress designed in a fresh, light blueish-green color–perfect to rock at a cocktail party. I am so excited that these looks are available
right now
— no waiting until Fall necessary. What do you think of them? Let me know below!
"Kohl's provided compensation to me as an incentive to blog about the Rock & Republic launch event. The opinions expressed herein are those of this author, and they have not been reviewed or approved by Kohl's in advance."
I see so many looks I love during New York Fashion Week but it's not often that I get the chance to wear any of them right away. That's why I have to share with you some of my favorite looks from the Kohl's Rock and Republic show last week… the styles are available in stores now as of today! You can also shop for them online. From casual jeans and tees to edgy rocker chic dresses, this line really had something for everyone. Here are some of my favorite looks: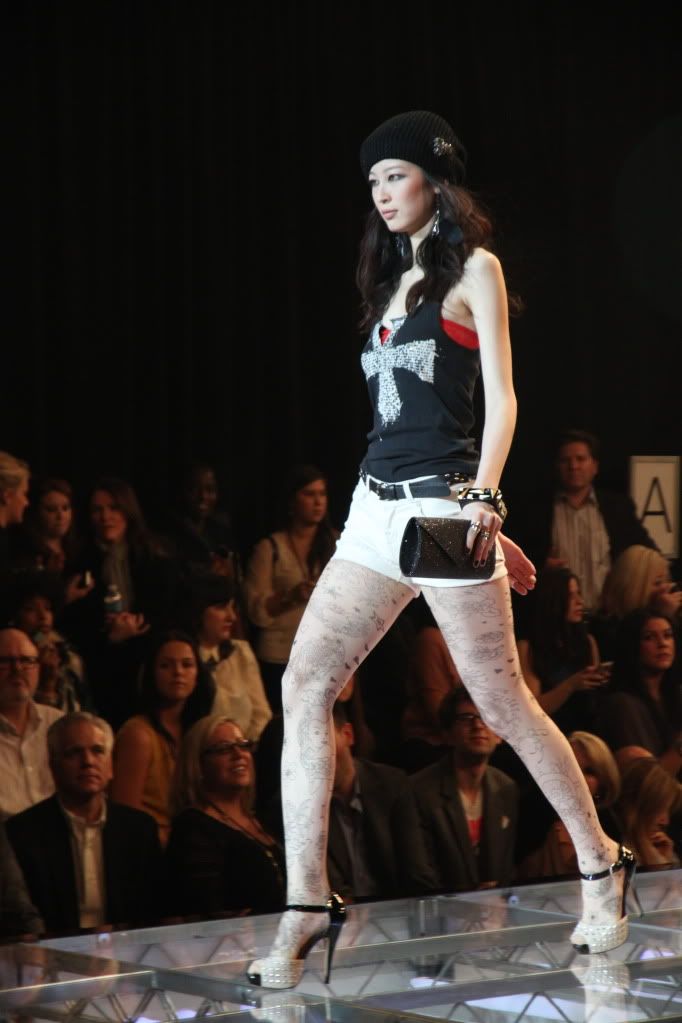 Edgy Tank I love to wear tank tops year round, especially pairing them with cool cardigan sweaters or cropped jackets. This one is a perfect addition to any rocker wardrobe…the cross and stud embellishments are super chic. It works well with all types of jeans whether colored or denim, skinny or flare!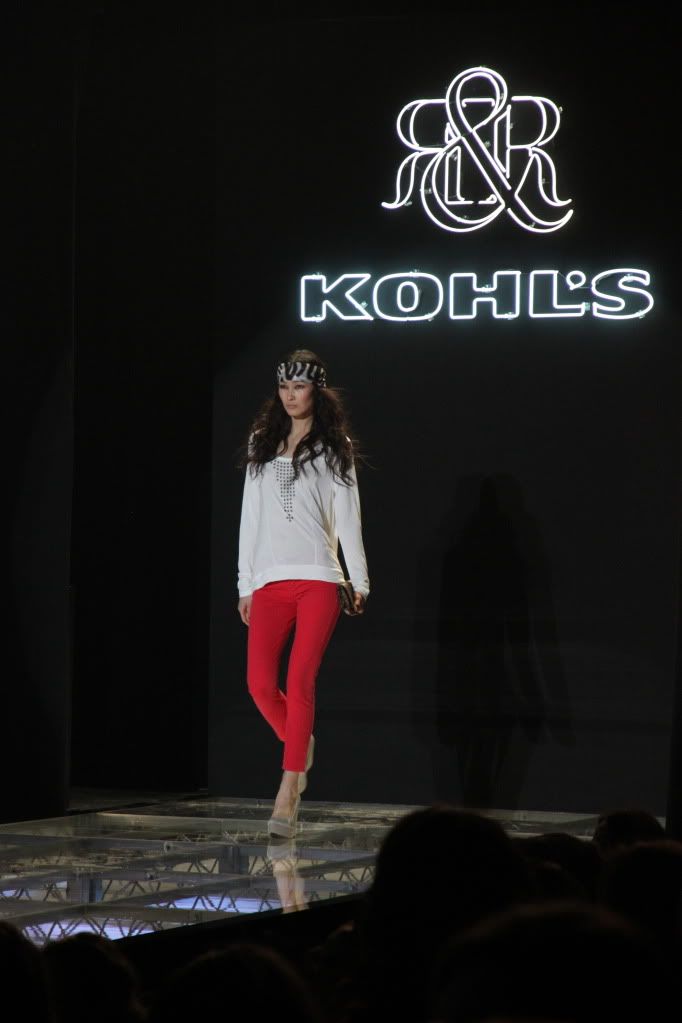 Colored Jeans Rock & Republic is of course known for a great pair of jeans, but why stick to just denim? I think this bright red is a new wardrobe staple – perfect for the girl who wants to stand out!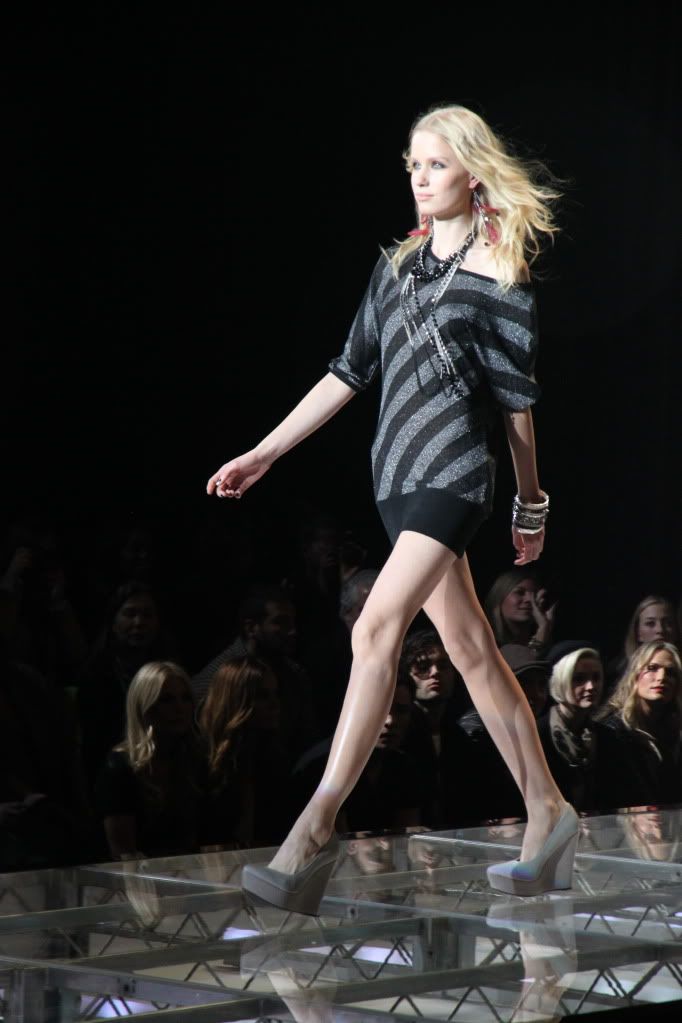 Little Striped Dress There were so many edgy and cute pieces in this collection. One of my faves is this mini striped off the shoulder dress. I love the shimmery stripes and it's a perfect day to night look. Wear with fun tights and boots with a cropped biker jacket to finish off the look.
I loved attending the fashion show and even spotted some celebs like mom-to-be Molly Sims, the very sexy Chace Crawford, Ed Westwick, Penn Badgely, Tinsley Mortimer, Ashlee Simpson and Kelly Bensimon. Check out this video featuring some of the celebs as well as looks from the runway: http://www.youtube.com/watch?v=ArurB6mmdlY&feature=relmfu
"Kohl's provided compensation to me as an incentive to blog about the Rock & Republic launch event. The opinions expressed herein are those of this author, and they have not been reviewed or approved by Kohl's in advance."

I am so busy running around the city and getting ready for fashion week. I can't believe it's almost here! I'm already planning my outfits, organizing my crazy show schedule and trying to fit in some time for parties and socializing! I enjoy the frenzied fun so much and would not have it any other way. I'm particularly looking forward to attending the Kohl's Rock & Republic Fashion show.  Did you know Rock & Republic is launching a line for Kohl's this spring? I can't wait to check out the chic styles and report back to you!  Plus, I am sure there will be some great celeb sightings too–you know how much I Iove to share all of their best fashion, beauty tips, and tricks with you.
Stay tuned! xx Melissa
Update! Kohl's Rock & Republic Fashion Line is officially available to purchase !
"Kohl's provided compensation to me as an incentive to blog about the Rock & Republic launch event. The opinions expressed herein are those of this author, and they have not been reviewed or approved by Kohl's in advance."