Warm weather is finally here, so it's time to say goodbye to bulky layers- and the extra pounds that have been hiding behind them. Dreading the thought of baring your beach body this summer? For a flat stomach, healthy glowing skin, and improved energy the solution is simple: up your fiber intake! The ADA recommends 25-35g of fiber per day for women and 38g per day for men. However, the average person is only getting 9-11g a day! The absence of fiber in Americans' diets is a major risk factor for weight gain.
The simplest, most effective yet overlooked strategy for quick summer slimming is to eat more foods that are naturally high in fiber. High-fiber foods have a low caloric density, which means you can eat a lot while consuming relatively few calories. Dietary fiber also quiets between-meal hunger and sugar cravings. That's because fiber-dense foods slow the absorption of sugars into the bloodstream after eating. A recent study found that people who doubled their fiber intake from 12 to 24 grams per day cut their calorie absorption by 90 calories daily. That's a 9.4lb weight loss in a year!
Fiber acts like a sponge in your digestive tract, absorbing other molecules like carbohydrates, fats, and sugars—along with all their calories—and preventing them from settling on your hips. In addition, fiber contributes bulk to foods, which gives you the satisfaction of chewing, plus the feeling of a full stomach, without adding any calories. Since fiber-rich foods take longer to digest you feel fuller longer, and as a result tend to eat less throughout the day, which makes weight loss easy to achieve. Ready to try summer's quicker tummy tucker? Look your best this bathing suit season by adding these delicious high fiber choices to your daily diet:
Reach for berries (instead of a banana): A cup of raspberries contains a whopping 8g of fiber compared to a banana's 1g of fiber and carbohydrate punch equal to a whole white potato.
High-fiber cereal: Whole-grain cereals vary widely in terms of dietary fiber so compare brands. F-Factor Cereals pack the most fiber with 15-18g per-1/2 cup serving –up to 72% of your daily fiber needs.
Buy Tanya Zuckerbrot's Health Valley F-Factor High Fiber Skinny Cereal, (Pack of 6 boxes), $30
High-fiber bars: Most so-called health bars are basically glorified candy packed with calories and fat. A high fiber bar will help keep you full, without wreaking havoc on your waistline. F-Factor Bars pack 12g fiber, 50% of your needs in one bar!
Buy Tanya Zuckerbrot's Health Valley F-Factor Cinnamon Apple Bar, (Pack of 6 boxes), $35
Pistachios: Pistachios are the highest fiber nut (3g per ounce). Plus you get more nuts per ounce, one serving of pistachios is 49 nuts versus only 23 almonds and 18 cashews.
Whole wheat bread: Choose 100% whole-grain bread that has at least 5 grams of fiber. Whole-wheat bread contains twice the fiber and almost half the calories of its all-white counterpart!
Watch PageDaily Exclusive Interview with Tanya Zuckerbrot
Having that "it" swimsuit is an essential element for every summer wardrobe! Now is a great time to make sure you have the best suit for you. Whether you love bikinis, one-pieces, or even the retro look, we've got you covered with the most chic and trendy styles available. After scouting out all our favorite retailers that offer this season's most stylish finds, we rounded up plenty of swimsuits for you at every price point to suit your taste. Looking cute at the beach or pool has never been so easy!
Stylish Prints:
1. Skull Chain Bikini
Stand out this summer with this amazing edgy print! With medium coverage and skull ring details, this swimsuit is hot. We love that you can also choose different sizing for the top and bottom!
Buy Now, $180, Letarte
2. Zebra Twisty Bikini
White and animal print are two must-haves for summer. This is a super flattering bikini and has great tush coverage! Love the beaded details on the bottom.
Buy Now, $176, Letarte
3. Majestic Swim Women's Gina Triangle String Top
and Lana Twist Bottom

(Multi Aqua Cheetah Print)
Cheetah print is so exotic! Strut in style with this sexy bikini and you'll be the Queen of the Beach. The side ruching detail in the bottoms is great – it runs a bit small so order one size up!
Buy Now, Top: $68,
Bottom: $76, Amazon
4. L* Space Women's Twister Ziggy Bikini Top
and Bottom

This flirty multi-colored print is on trend for this season. The bottom is skimpy and will show off those buns!
Buy Now, Top: $60,
Amazon
Buy Now, Bottom: $60,
Amazon
5. Ikat Underwire Halter Top Bikini
Make a splash with this tribal printed two-piece. It is made with quick-drying and fade-resistant materials, great for girls who like to spend time in the water.
Buy Now, $52, J.Crew
6. Turquoise Banana Print Bikini
Bring out your fun-loving persona with this eye-catching print!
Buy Now, $52, Topshop
7. Black & White Printed Bikini Top and Bottom
This twisted front bandeau bikini with leopard print is the perfect choice if you're on a budget. Sexy and chic, you can now look gorgeous on the beach without breaking the bank.
Buy Now, Top: $14.95, H&M
Buy Now, Bottom: $12.95, H&M
8. Powder Rose Flamingo Print Bikini Top and Bottom
Subtle yet pretty flamingo print gives off a sexy retro feel. The girly pink is trendy and fun. This is great for any age.
Buy Now, Top: $14.95, H&M
Buy Now, Bottom: $12.95, H&M
Fabulous Solids:


1. Lisa Curran Women's Valencia U-Bar Halter Top
and Scoop Bikini Bottom

The U-Bar ring in the center gathers the bust to create a sexy visible curve. Perfect for ladies who wants that little extra boost!
Buy Now, Top: $88,
Amazon
Buy Now, Bottom: $88,
Amazon
2. L* Space Women's Sensual Solid Twister Bikini Top
and Twiggy Bikini Bottom
(Limon)
Beachy, bright and trendy! This bold bikini looks fabulous on all shapes and sizes.
Buy Now, Top: $60,
Amazon
Buy Now, Bottom: $62,
Amazon
3. Victoria's Secret Mix and Match Bikinis
Life is all about having options and your swimsuit is no different. Mix and match styles to make your perfect summer suit. You're bound to find a style and color that shouts YOU!
Buy Now, Top: $18-24, Bottom: $16, Victoria's Secret
Trendy One-Pieces:
1. Emilio Pucci Zebra-Print One-Piece Swimsuit

Bring out the animal in you! Rock out in this flirty zebra print one-piece with a metallic finish that adds a touch of glam to the already sexy silhouette.
Buy Now, $346.50 (Orig. $495.00), Saks Fifth Avenue
2. Amber-buckle strapless tank
This stunning one-piece from J.Crew really caught our eyes for its flattering retro ruching detail. It includes removable halter straps with full coverage for added supported. Great for bustier beach babes.
Buy Now, $105, J.Crew
3. LaBlanca Women's Solid as a Rock Bandeau One Piece

Whether you're hitting up a pool party or vacationing in the Hamptons, this simple one-piece is perfect for any occasion. The perfect choice if you want to be a little more covered-up and still accentuate your curves.
Buy Now, $109, Amazon
4. Front Frill Plunge Swimsuit
Have the best of both worlds with feminine ruffles in the front that gives this on-trend monokini a girly-girl vibe and a plunging scoop back that exudes sex-appeal.
Buy Now, $41.37 (Orig. $48.27), ASOS
5. Nylon Tricot Cut-Out Swimsuit

Cut-outs are a major trend in swimsuits this season. This simple yet classy one-piece shows off just-enough skin to stand-out in sophistication. The cut-outs also gives the illusion of a slimmer waist!
Buy Now, $38, American Apparel
Win $100 to spend at the new Amazon Swim Shop where you can shop for many of our picks! With free shipping and returns you can try on swimsuits in the comfort of your own home — no harsh dressing room lighting required! Just follow us on Twitter to enter.
It's safe to come out now: With the long winter months (finally!) behind us, there's no better way to celebrate than by taking advantage of all that the outdoors have to offer. Whether you're lounging by the pool, playing a pickup game of volleyball, enjoying a picnic in the park, or just out catching up with friends, we've got the best bets for your bag to ensure you're covered whenever, wherever the carefree days of summer take you!
Papier Poudre Oil Blotting Papers

Don't let your face outshine the sun: Small enough to fit in your wallet, these blotting papers are great for avoiding an oily summer don't. Papier Poudre Oil Blotting Papers are ideal for afternoons spent out in the heat: They absorb the accumulation of oil and sweat on your face, leaving a light, invisible powder for a freshened-up look. Available in an assortment of skin-tone choices, these papers eliminate the need for constant touch-ups and reapplying. The end result leaves you looking moisturized, not greasy, and – best of all – free from stressing your sweat.
Buy Now, $3
Oscar Blandi's Pronto Invisible Volumizing Dry Shampoo Spray

Flat, limp, hair can be a year-round hassle, and the hot summer months do nothing to minimize the problem. Luckily, there's Oscar Blandi's mini version of his Dry Shampoo. Without stripping hair of its own natural oils, the shampoo absorbs oil buildup while strengthening and increasing volume at the roots. Light enough that it doesn't weigh your hair down, this product is particularly good for those with little time for washing and styling. Simply apply between washings to give your hair extra bounce. As an added bonus, Blandi's shampoo can be used as a corrective for clean hair that's been subjected to too much product (we've all done it) – just spray and refresh!
Buy Now, $11 for 1.4 oz
Dr. Scholl's Blister Defense Stick

One of the best parts of summer is the opportunity to flash a little… toe. A killer pedicure deserves – needs – a killer shoe to show it off. Unfortunately, each new pair of peep-toe wedges also needs to be broken in, giving a whole new meaning to the term "killer." To combat the dangers of shoe rubbing, apply Dr. Scholl's Blister Defense Stick directly to your foot, where it works to prevent against blisters and irritation. The easy, glide-on application acts as a buffer between your skin and the shoe without leaving any residue
Buy Now, $7
Supergoop SPF30 Sunscreen Swipes

Tired of sticky sunscreens? Supergoops's SPF 30 Sunscreen Swipes with Zinc for All Skin Types (even suitable for sensitive skin) is the answer to your woes. These wipes are pre-moistened, ready to calm, soothe and protect your skin from the harsh summer rays. Not only will the non-greasy formula keep your hands fresh and dry, the Zinc Oxide and green tea ingredients in this handy purse essential will help to reduce irritation and redness. Even better, it gently removes sand while preventing signs of aging.
Buy Now, $10 for 8
Wet Ones Sensitive Skin Hand and Face Wipes

Cleanse your skin on the go! Especially with the hot summer heat causing bacteria and oil build-up on your face, it's essential to have this handy pick-me-up stashed in your purse. Made safe-to-use for sensitive skin, this wipe is formulated with extra mild cleansers that gently moisturizes while leaving skin feeling soft, smooth and refreshed!
Buy Now, $2 for 15
Fresh Sugar Honey Tinted Lip Treatment SPF15

Chapped and dry lips are always a no-no. To prevent embarrassing chapped lips, the Sugar Honey Tinted Lip Treatment by Fresh is a great on-the-go product to store in your purse. Insuring long lasting hydration and moisture, this lip treatment helps to further nourish your lips while keeping wrinkles and damaging UV rays at par. The tint is adjustable upon your preference with more or less applications. Perfect for any skin color!
Buy Now, $22.50
SmartMouth On-The-Go Packets

Now you can have minty fresh breath everywhere you go! These SmartMouth On-The-Go Packets can give you up to 12-hours of fresh breath whether you're at the beach, out on the town, or even on the plane. They are so simple to use, just tear off the top and pore the content into a mixing cup or simply pore it directly in your mouth. This is definitely a purse must-have!
Buy Now, $7 for 10
I LOVE jewelry and am always looking for a great new find.  This summer, I'm lusting after pieces that aren't fussy or overly fancy, and with many options under $75, it's easy to accessorize.  Summer is the time to be carefree, so simple summer style is about wearing fabulous pieces that you can pair with everything in your wardrobe.

Lulu Frost Navette Tassel Necklace
, $325
I'm a big fan of long necklaces.  This antique brass one is easy to wear for summer. I love that the oversized swarovski crystal flower pendant has a glass pearl center. It looks great with a solid maxi dress and sandals.
Citrine by the Stones Provocateur Earrings, $160
This brand has a ton of fun jewelery and these earrings are total outfit makers.  Wear them during the day with jean shorts and a white tank and your hair pulled up in a messy ponytail or at night with a dress and sleek pulled back hair.


Alexis Bittar Crystal Encrusted Gold Pool Ring
, $255
Alexis Bitar's baubles are true works of art and this ring is no exception.  An oversized cocktail ring is the perfect conversation starter at a chic summer nighttime event.

Sadee Says 3-finger Serpent Ring, $104
Snake jewelry is a favorite of mine and very vintage-inspired.  Wear this multi-finger ring and be ahead of the fashion curve this summer.

Kelly Gerber Grey Croco Leather Cuff, $375
Chunky bracelets are on trend this season.  This one is casual enough for everyday wear.  Crocodile adds a cool nod to safari style which is always hot for summer.
Under $75: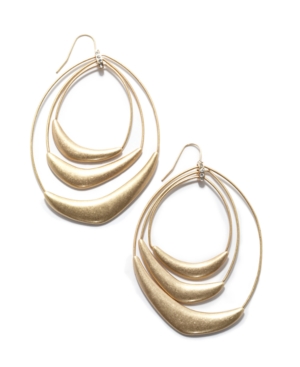 Rachel Rachel Roy Earrings, Three Tier Drop Hoop
, $46
Hoop earrings are every girl's summer staple.  This is an interesting take on the basic hoop earring.  I would keep them on all summer!
Calypso for Target Necklace with Rosary Beads, $39.99
Calypso is known for summery fashion, and their new line for Target does not disappoint.  This necklace looks great with everything.  It's an accessory you'll wear all summer long.
Urban Metal Feather Cuff Bracelet, $20
Nothing says summer like nature-inspired jewelry.  Urban Outfitters has lots of boho chic accessories like this leaf bracelet which comes in both silver and gold.  I always stack my bracelets so this would make a great addition for a layered look.

Vanessa Mooney Wrap Bracelet, $64
Vanessa Mooney is a fave of celebrities like Katie Holmes and Vanessa Hudgens.  All summer jewelry should be as easy to wear with a tank and jeans as this wrap bracelet.  It comes in tons of great colors, too!
Skinny by Jessica Elliot Ring, $45
Skinny by Jessica Elliot is another celeb favorite worn by Rihanna, Pink and many others.  I'm obsessed with these two finger rings that come in lots of fantastic summer brights.  They look great with a tan and a manicure!